GW Bees do it for Founding Farmers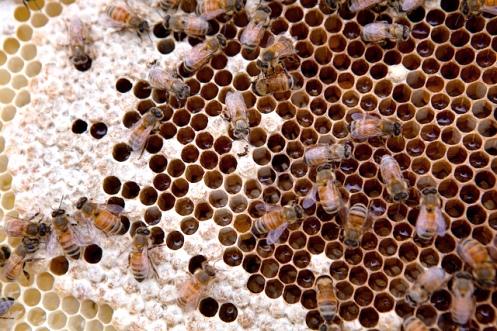 Partnering with George Washington University, Founding Farmers restaurant is establishing the largest known restaurant-owned urban apiary in the country. The restaurant installed six beehives on the roof of Lisner Hall, an academic building on the GW campus that sits just two blocks away from the restaurant.
While the bee colony won't yield honey immediately (they expect production of each hive to reach up to 120 pounds by next year), in addition to culinary uses, GW's biology department will use the hives for research, specifically analyzing the pollen the bees bring back and tracking the exact flowers the bees visit.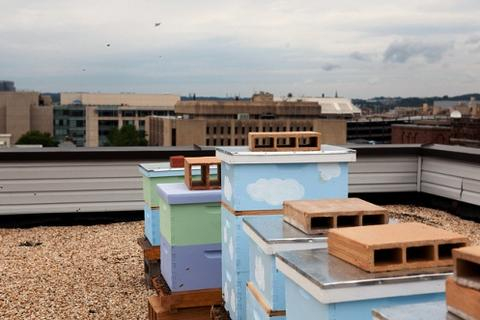 "This urban apiary is a natural extension of Founding Farmers' mission to minimize its impact on the environment through sustainable practices," said Dan Simons, Principal of VSAG, the restaurant consulting and management firm for Founding Farmers. "Not only do we love being able to harvest our own honey to supplement our restaurant's usage, but we are proud to partner with GW — a powerhouse in the world of education — on a project like this."
"We are pleased to partner with Founding Farmers in this exciting new endeavor," said Peg Barratt, dean of GW's Columbian College of Arts and Sciences. "This venture provides an opportunity to not only further expand the university's research goals and enhance our students' educational experiences, but play an active role in encouraging local sustainability and green living."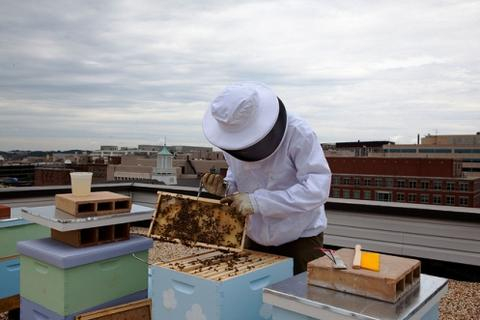 In addition to creating the apiary, Founding Farmers also established a $5,000 scholarship that will be awarded to an undergraduate GW biology student who will oversee the apiary for the next year. The scholarship is the second that Founding Farmers has created for the university. Earlier this year, the restaurant awarded the first annual $5,000 Scholarship for Sustainable Hospitality, which is awarded to a student attending the GW School of Business.
Visit Founding Farmers for honeybee updates and follow the bees on Twitter @FFbees.