Guy Mason Hours Tweaks Don't Satisfy Critics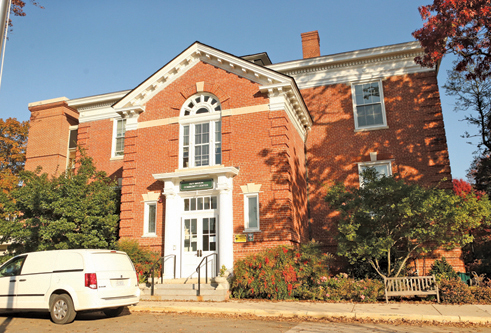 By Mark LiebermanCurrent Staff Writer
Residents who frequent Guy Mason Recreation Center in Glover Park continue to call for the city to restore the center's nighttime and Sunday hours, despite resistance from officials citing budgetary and contractual constraints.
The Friends of Guy Mason group and other community members protested in November when the D.C. Department of Parks and Recreation announced that the facility at 3600 Calvert St. NW would close an hour earlier on weekdays — 9 p.m. instead of 10 p.m. — and eliminate Sunday hours. Users of the center's pottery program said the closures would severely limit studio time, given that many of them aren't free during weekday business hours.
Though the parks department has made some scheduling tweaks, it has otherwise declined to accommodate the concerns. In an email to the friends group on Jan. 12, the agency's assistant director Mziwandile Masimini turned down a suggestion from the group's president David Messineo to cut some weekday morning hours in exchange for reopening the center on Sundays. Masimini did indicate, however, that the agency would consider the suggestion going forward.
"While at this time we do not plan on any immediate adoption of this model, we are considering exploring this model for our Agency goals with the vision of improving access and use down the road," Masimini wrote.
In lieu of restoring Sunday hours, the department has allowed pottery instruction on weeknights to end at 9:30 p.m., half an hour after the rest of the facility closes, agency spokesperson Gwendolyn Crump wrote in an email. When implementing the Sunday cuts, the agency also added 14 hours of open pottery time during the day on weekdays, Crump noted.
Messineo and other group members say that the extra 30 minutes on weekdays doesn't compensate for lost Sundays; staff members frequently push attendees to spend this final half-hour cleaning up before closing; and the 14 additional studio hours aren't useful for people who work during the week.
Beyond the decision to align Guy Mason with all other city recreation centers, which are closed on Sundays, the parks agency has said too few residents used Guy Mason on Sundays to financially justify keeping it open.
Messineo disputes this claim. He says when the rec center was renovated in 2011, the agency established restrictions on programming that stayed in place even when the renovation was complete, limiting classes that could have drawn residents. Low turnout on Sundays results from the restrictions, not from low interest, Messineo argues.
"We're at 100 percent for what you allow to be in the center at that time," Messineo said. "We felt like we were set up to fail."
Ward 3 D.C. Council member Mary Cheh told The Current that she'd consider budgetary action to ensure that facilities like Guy Mason are open at times the community can use them. Though she doesn't think the parks department is likely to change its mind on Sundays at Guy Mason, she hopes to work with the agency and the community on a solution that suits everyone's needs.
"It's a chicken-and-egg thing. If you build it, they will come," Cheh said of periods of inactivity at the center. "If there's nothing going on there to attract the people to come, they're not just going to sit there among the rooms."
To combat what some see as a programming shortage, Masimini suggested in his email that the friends group enter into a partnership with the agency that would allow fundraising for "specially requested programs beyond the DPR offerings." The agency also has a new program that allows private instructors to obtain permits for classes at recreation centers, Masimini said.
Messineo told The Current he appreciates those offers but doesn't think they go far enough.
"Bringing back arts programs would require our group to initiate, locate the instructors, assist with the contracts, etc.," Messineo wrote in an email. "All of that begs to ask what is DPR doing if we are doing the work for them?"
Parks department representatives have also attributed the new hours to a collective bargaining agreement that requires its employees to get two consecutive days off per week, difficult to achieve with a schedule that includes Sundays. Messineo said his team and several lawyers have scrutinized the agreement and failed to find such a provision. Crump wrote in an email that the agreement is not one of the "fundamental issues" that led to removing Sunday hours.
Agency director Keith Anderson plans to meet with Cheh and the community next month, according to Crump. Messineo hopes to send a message that the community is ready to take advantage of Guy Mason if given the opportunity, he said.
"In one capacity or another capacity, we're going to keep on this because we think it's the right thing," he said.
This article appears in the Jan. 25 issue of The Georgetown Current newspaper.