GU premieres dance based on Post editor's 2003 book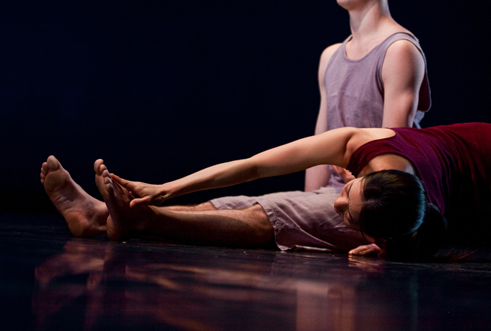 By Deirdre Bannon
Current Staff Writer
In "Into Sunlight," a modern dance production that will have its D.C. premiere this weekend at Georgetown University, themes of war and protest are explored in an a performance inspired by a nonfiction book that Washington Post associate editor David Maraniss wrote a decade ago about the Vietnam War era.
Like Maraniss' 2003 book — the Pulitzer finalist "They Marched Into Sunlight" — the Robin Becker Dance adaptation juxtaposes two narratives that unfold on the same day in October 1967. In one, an elite Army battalion is ambushed during a controversial battle in Vietnam and 61 soldiers are killed. In the other, University of Wisconsin-Madison students engage in a sit-in protest against Dow Chemical, the maker of napalm, in what would be the first violent confrontation of that era between police and students.
"David presents such a broad scope of the details of human life and perspective," said Robin Becker, choreographer and artistic director of Robin Becker Dance, which she founded in 1987. "I was really moved by the book and the parallels between the young people who were fighting the war and those who were fighting against it."
Becker said what she found most powerful about Maraniss' book was "the way he sees the world through the lens of the human heart."
"He catches such human detail that you're pulled right into the depths of the lives he's engaged in, down to [their] dreams," she said.
Becker describes her interpretation as symbolic and abstract, drawing on the mythic themes of tragedy, turmoil and healing that are evoked during times of war. While the performance re-enacts battles, Becker doesn't include fight scenes.
"I knew that I didn't want my dancers to learn combat choreography with fake fighting and punching," she said. "I felt that nothing would evoke the truth of the horror of that, so I purposely didn't want to go near it."
Instead, Becker incorporated slow-motion movement in which the dancers morph into distorted shapes, evoking a living frieze that she calls a wall of carnage.
For author and journalist Maraniss, having his work adapted to dance was a new experience.
"I've had my books translated into a lot of different languages, but never before into a language of modern dance," he said. "I was curious about how she could do it and very excited about it."
Maraniss was able to observe Becker's early stages of experimenting with the choreography. He also attended the production's March 2011 premiere at the University of Wisconsin-Madison. And he said the piece captures the essence of his book, something he didn't necessarily expect.
"I didn't know whether when I watched it, I would feel my book or not, … but from the first scene of the dance when I first saw it, I felt the book, and that was kind of thrilling for me," he said.
Maraniss said his book depicts two very different worlds and tries to show that regardless of a person's perspective, he or she faces many of the same questions about the meaning of war, patriotism and the role of dissent in American life. It also explores the impact of burdens that are placed on younger generations by those who came before them.
"Certainly the echoes of Vietnam are present since the Iraq war started, and the issues of war are as timely today as they've ever been, sadly," he said.
Georgetown University history professor Katherine Benton-Cohen, who teaches Maraniss' books in her classes, worked with David Goldman, artistic director of the school's Davis Performing Arts Center, to bring the production to Washington.
"There is something very powerful about the way this piece engages the human body in physical expressions that evoke war, memory, integrity, honor and politics," said Goldman. "We're always cognizant of bringing productions to Georgetown that will speak in particular ways not only to our campus community but to the wider D.C. cultural community, so that they can see a work that they otherwise might not see."
Before each evening's performance begins, Maraniss will provide a 10-minute introduction; a post-show question-and-answer session will be moderated by Benton-Cohen and will include Maraniss, Becker and members of her dance troupe.
"Into Sunlight" will be performed at 8 p.m. Friday and Saturday at Georgetown University's Davis Performing Arts Center. Tickets cost $18 for general admission and $10 for students. For details or to purchase tickets, visit performingarts.georgetown.edu.
This article appears in the Jan. 18 issue of The Georgetown Current newspaper.