GU Effort Aims to Help Homeless in Bitter Cold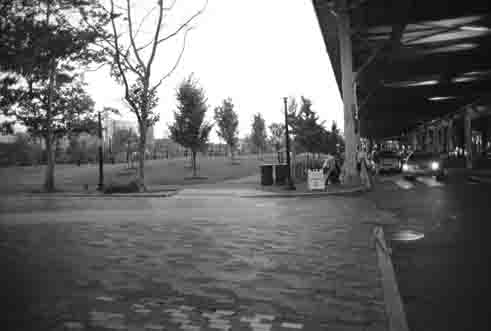 By Kat LuceroCurrent Staff Writer
When Mayor Vincent Gray activated the city's first cold-emergency alert of the season last Tuesday, a new program in Georgetown dispatched student volunteers to comb the streets.
The "Hypothermia Outreach Team" scoured the area to find people without shelter and make sure they got supplies or a warm place to stay on the cold winter night. The team is made up of dozens of Georgetown University students in a joint initiative with the Georgetown Ministry Center.
"We want to make sure people are safe," said Ray Shiu, who runs the program at the school as associate director of Georgetown University's Center of Social Justice Research, Teaching and Service.
The city issues a cold-emergency alert when the actual or predicted temperature (including the wind chill) falls to 15 degrees, or to 20 degrees with precipitation. To protect homeless residents from hypothermia, city agencies put in place additional services and support, supplemented by ad hoc teams like the Georgetown group.
"During those times, the students are helpful. They're nearby and they have more energy to go out at night," said Gunther Stern, executive director of the ministry center.
Last Tuesday from 7 p.m. to 9 p.m., nine available university students spread throughout the neighborhood, according to the ministry center's spokesperson, Stephanie Chan. They walked along M and P streets, under the Whitehurst Freeway and along Wisconsin Avenue up to the Safeway in upper Georgetown. Others ventured farther east to the Watergate complex in Foggy Bottom.
When the volunteers came across homeless residents, they handed out items like blankets, hand warmers, socks and other winter clothing and accessories — supplied by donations from both the ministry center and the university. They also called the District's homeless shelter hotline to transport people to nearby warming locations.
Shiu said the volunteers last week were able to provide help to 16 homeless residents.
To become a volunteer, students must first complete a workshop to build up the knowledge they'll need, like how to approach a homeless person and which city services are available during frigid weather. They're also taught how to recognize symptoms of hypothermia, such as dizziness, sluggish behavior and weak pulse. The workshop is followed by a walk-through of Georgetown areas where homeless individuals are known to sleep.
The program just finished prepping over 160 volunteers, according to Shiu. When weather on a certain night is expected to be bitterly cold, Chan said, organizers notify volunteers to see who's available.
Nearby, George Washington University has also been working to raise awareness of homelessness and to assist homeless people. Among its efforts, according to dean of students Peter Konwerski, is the university's longtime participation in a yearly nationwide campaign just before Thanksgiving called "Hunger and Homelessness Awareness Week."
Starting Nov. 16, the university held a variety of initiatives such as a food drive, a policy discussion and a contest challenging students to budget $30 for food in one week — the average amount that one person receives under the Supplemental Nutrition Assistance Program.
And when the cold weather hits, like last week, Konwerski said the university sends alerts to students, providing information on how they can help people without shelter get to a warm site.
In Georgetown, the ministry center — which offers a variety of services, including a "clubhouse drop-in center" and a winter shelter — recognized the need for the hypothermia outreach team after the frigid conditions of last winter's "polar vortex." A pilot program launched last January with 25 student volunteers on the streets. "We saw that some of our guests on the streets had almost died," Chan said of the homeless residents.
The ministry center tapped Georgetown University through its newest board member, Shiu, who said there's a burgeoning schoolwide interest in poverty issues on a policy level.
The university has had a relationship with the ministry center for years, but according to Stern, it was not as active as it is now.
Student participation has "evolved over the past few years," he said, contrasting it to earlier days when delinquent Hoyas were required to do community service.
Now more students are participating in several initiatives with the ministry center, such as organizing the annual 5K race fundraiser, which raised over $12,000 this year, and volunteering at the winter shelter, which houses 10 homeless individuals from November through March.
This article appears in the Nov. 26 issue of The Georgetown Current newspaper.