GU Adds Solar Panels to Historic Row Houses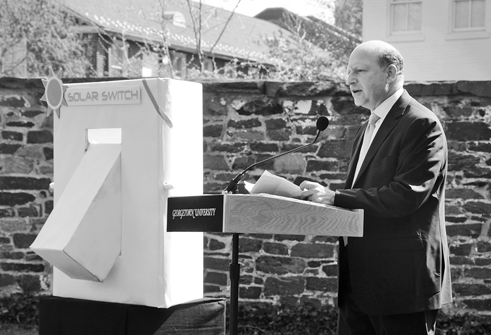 By Deirdre BannonCurrent Staff Writer
In a lead-up to Earth Day on April 22, Georgetown University last week celebrated its latest renewable energy project: Solar Street, a student-led initiative that helped install 75 solar panels on the rooftops of six university-owned historic town houses.
When combined with other efforts, the project makes Georgetown the largest user of green power among colleges and universities in the country, according to school officials.
Located on 37th Street just north of the university's main entrance, the row houses serve as student residences. The new solar panels will provide about 27 percent of the electricity needs for the buildings, said Erik Smulson, Georgetown's vice president of public affairs. Over time the carbon reductions achieved by this project will be equivalent to planting 330 trees, he said at last week's ribbon-cutting ceremony.
"Students made all of this possible," Smulson added.
The idea for the project began in 2011 when a student group called Georgetown Energy heard that funding for projects was available through the school's student government association. The group mobilized to see how the funds could be used to save energy on campus, according to Dan Mathis, a Georgetown University senior who served as a leader on Solar Street.
After organizing several working groups with fellow students, faculty and administration to test the feasibility of a rooftop solar panel project and to survey potential houses, in spring 2011 Georgetown Energy won $250,000 to make Solar Street and other renewable energy projects a reality.
"This project really shows the impact students can make if they think big and aren't afraid to take risks for something they're passionate about," Mathis said during the ceremony.
Additionally, according to Mathis and university sustainability coordinator Audrey Stewart, students wanted to show other Georgetowners a way to go solar. "One of the things we're hoping for with Solar Street is that it might help inspire or enable more property owners to pursue renewable energy projects on their properties," said Stewart.
To carry out the initiative, students partnered with SolarCity, a company based in Silicon Valley but with an office in the District. SolarCity won the contract through a competitive bidding process.
The panels were installed on the rooftops during the school's break in December and January. The project is expected to save the university $3,000 annually in electricity costs.
The panels are not visible from the street, which was key in getting approval from the Old Georgetown Board, which must first approve changes to structures within the federally protected historic district.
What makes this project distinct is the business model SolarCity uses to bring solar energy to its clients. Instead of installing rooftop panels that clients would purchase, SolarCity provides panels that it owns, and clients pay for the electricity generated. According to Sam Boykin, a spokesperson for SolarCity, this can be an attractive option for homeowners, businesses and institutions because there is no upfront cost to purchase panels, and SolarCity maintains them.
At Georgetown, the university entered into a 20-year agreement to purchase power from SolarCity.
SolarCity began operating in D.C. in 2011, and so far the company has more than 220 clients in the area.
Leon Keshishian, the company's vice president, is a Georgetown alumnus who has worked closely with students on Solar Street. "This project has had a big impact on me," he said in an interview. "I put myself in the students' shoes, remembering when I started in the industry. It's been really fun working with them."
Gary Guzy, deputy director of the White House Council on Environmental Quality, spoke at last week's event and shared the Obama administration's support for the student project.
Georgetown University has a history of supporting renewable energy. In the 1970s, the Intercultural Center (a modernist structure that stands out from the university's more typical Gothic or Georgian architecture) was designed to support 4,000 solar panels, the largest installation on a university campus at the time in the U.S.
Additionally, New South Hall, which is now in the design stages, will likely incorporate passive light and stormwater management systems. And just last week, the campus received word that its newest building, Regents Hall, was awarded a Gold rating under Leadership in Energy and Environmental Design standards.
This article appears in the April 17 issue of The Georgetown Current newspaper.