GTC Hosts Learning Lunch on Design Legacy of Jacobsen Architecture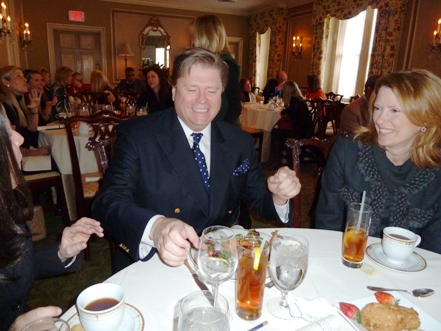 Seems fitting that in the same spot where Capital architect Pierre L'Enfant discussed plans for this Federal City that Simon Jacobsen should dazzle 40 well-heeled Georgetowners with images and recollections of Jacobsen Architecture's 50-year quintessentially American (modern) history.
As evidenced by last week's 'Relaunch Party,' the historic The George Town Club (GTC) has truly begun a new era.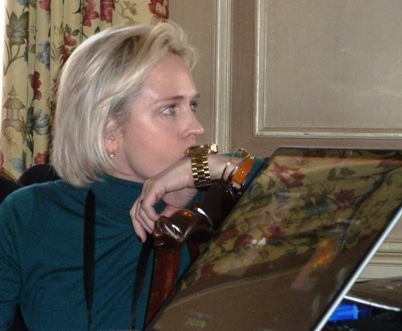 While firm's founder (and father) Hugh Jacobsen was feeling under the weather, son regaled the crowd following a glowing introduction by Elizabeth Miller. "We plan to reinvogorate The Club ... I know we can do it ... with the talent pool in DC!" Elizabeth reocgnized Bo Blair (updated menu) and Andrew Law (design interior) for their commitment to transforming The Club, starting with this new series of lectures.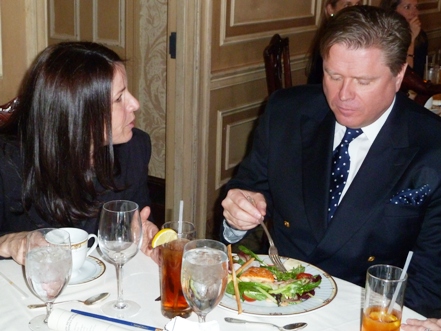 "I'd like to thank the Academy ... " began Simon, "and my wife Ruth for taking care of home and family, while I'm spreading architectural joy and fabrics around the world."
"My father was transformed from a beer-drinking surfer artist into one of the greatest architects of the 20th century," Simon continued. Jacobsen Architecture is a "very specialized firm with 12 people and between 15-28 projects at one time."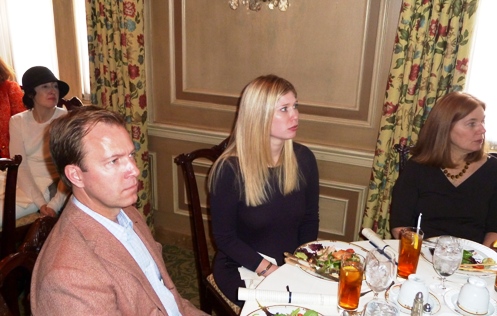 "We start from the floor plan out, turning plans into three dimensions ... often with a collection of little buildings." One of the firm's signature design features, those white pavilions, provide an aesthetically spare clue to what's inside. "We design all the furniture inside too," he explained.
Recently launching a partnership with Georgetown-based ARCHER, Simon showed examples of custom client furniture now available through the The Jacobsen Collection. From beds to sofa tables to seating and Halo chandeliers ... all their furniture is made in the USA.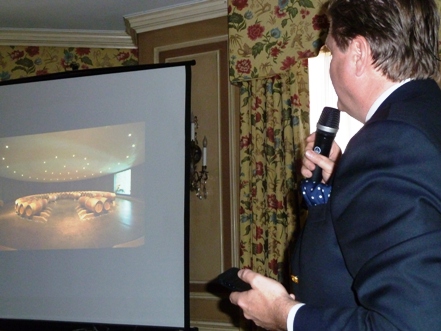 "We set furniture on their own islands of carpet," another iconic feature of Jacobsen's light-flooded rooms with and "egg crate bookcases which can be modified for shoes, salt shakers or firearms ... and wine," as Simon took the guests through a virtual tour of Boxwood Winery in Middleburg, VA.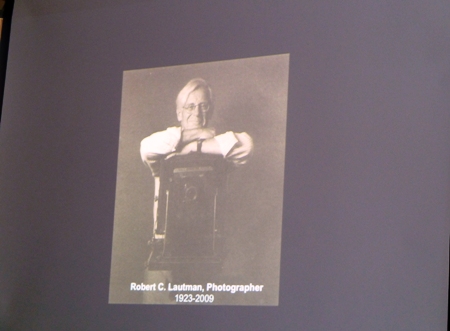 And with all the whiteness of the interiors, the bookcases (when filled with books) "are turned into a wall of color."
Other signatures of the Jacobsen design ethos: custom millwork, floor-to-ceiling entrances, no baseboards, no visible gutters, and "ever mindful of the vicar, bar areas easily closed off."
Ending the talk with a poignant homage to Hugh's life-long friend and Jacobsen Architecture's "symbiotic partnership with one of the greatest architectural photographers, the late Robert Lautman," Simon graciously thanked Lautman for so eloquently capturing the essense of Jacobsen architecture.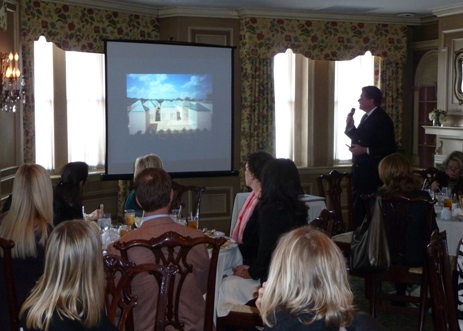 For membership information, visit The George Town Club or email membership@georgetownclub.org.