Group Seeks Visions for Revitalized C&O Canal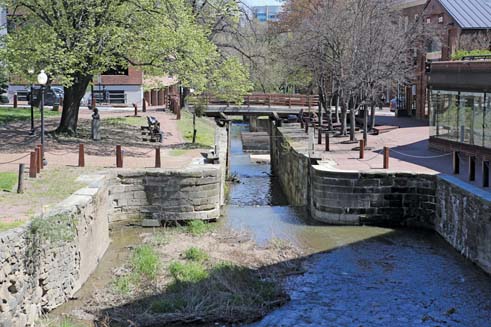 By Grace BirdCurrent Correspondent
The future of Georgetown's mile-long section of the C&O Canal sparked a lively discussion last week, where interested residents offered a variety of ideas for revitalizing the historic National Park Service-owned waterway.
Georgetown Heritage, a nonprofit group overseeing plans to upgrade the canal corridor, hosted a meeting last Wednesday as part of an ongoing effort to collect public feedback. Attendees' visions for the space ran the gamut from a vibrant restaurant strip to a quiet retreat from the bustle of M Street, and further comments will be accepted through July 14.
Alison Greenberg, executive director of Georgetown Heritage, said the project's priorities include restoring the narrow, crumbling towpath; implementing educational devices like signs or mobile applications; and ensuring the canal complies with the Americans with Disabilities Act. Based on those criteria and the public feedback, James Corner Field Operations — which handled the landscape architecture for New York's famed Chelsea High Line — will produce preliminary sketches by October, and a final outline by mid-2018.
Georgetown Heritage also intends to bring back Georgetown's renowned mule-drawn canal boat, with Greenberg hoping to share her fond memories of boat rides led by men dressed in old-time garb with today's children. "It's a place that people can learn about and really step into a different period of time," she said.
Georgetown Heritage has already secured funding for the design and construction of a new canal boat and will begin fundraising and grant-hunting for the larger project after next year's designs are unveiled and priced. The boat faced previous funding issues, and Greenberg intends to ensure that this time all projects are sustainable.
"What's the point of building a whole new boat if the same thing is going to happen again?" Greenberg asked, referring to the previous boat's dilapidated condition, which led to its decommission in 2011 and eventual removal in 2016.
Pamla Moore of the Citizens Association of Georgetown told The Current she is pleased that the design firm's staff took time to the walk the canal, and gain appreciation for its potential. To Moore, a serene area to "enjoy the vegetation and the water and just feel comfortable" would best serve the community.
Lisa Palmer, the Georgetown advisory neighborhood commissioner whose single-member district includes the canal, supports the notion of restoration and will reserve any critiques for next year, when designs are released. "It won't be another High Line; it's just not appropriate," Palmer said. "I'm looking forward to it being a nice place to walk with friends."
Fellow commissioner Jim Wilcox is pleased with the restoration project: "How could you not be?" However, he added that "there is some tension regarding how intensively [the canal] should be used."
Residents do generally want at least some increase in activity on the canal, which they hope would deter crime — notably at an area near the aqueduct, widely known as the "graffiti wall."
"Young kids drink there, and they get robbed, assaulted," U.S. Park Police Lt. Christopher Cunningham, commander of Rock Creek Station, told The Current. The area requires almost full-time patrol, Cunningham added: "We have someone out there every day. It takes up a lot of time." Improvements to the Georgetown waterfront about 10 years ago rendered the park area relatively crime-free, and Cunningham speculated that canal restorations might have a similar impact.
To some, the canal's "rich history" is another key reason to restore it. For others though, rather than evoking fond images of President John Quincy Adams clumsily shoveling the site's first spadeful of dirt in Georgetown, circa 1828, the canal represents the bloody handwork of slavery — certainly not a history that warrants celebration.
The National Park Service takes its responsibility to present a factual account of the canal's history "very seriously," agency spokesperson Jenny Anzelmo-Sarles said.
And according to Greenberg, the canal's prospective educational programming will present events as they occurred. "The canal has a fascinating history, but it's also a very sad history," she said. "We're absolutely going to tell the public the whole story."
Residents are encouraged to offer comments on the canal through July 14 at parkplanning.nps.gov/Georgetowncanalplan.
Meanwhile, the Park Service is currently rebuilding the canal's locks three and four. This project is "going very well" and is scheduled for completion in summer 2018, Anzelmo-Sarles told The Current.