Group Seeks 'Summer Miracles' with Adoptions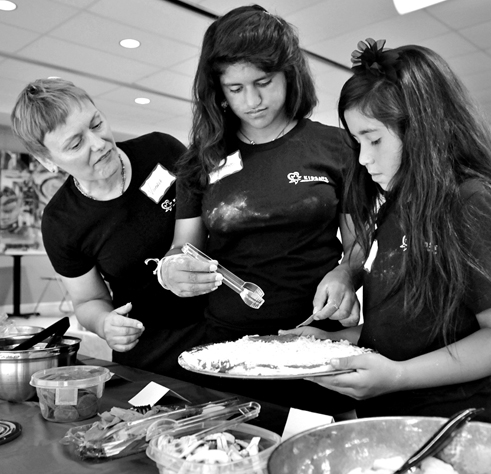 By Alix PianinCurrent Staff Writer
Last year, 10-year-old Andres came to the U.S. from Colombia as part of the annual Kidsave Summer Miracles program, which brings orphans and foster children to the States in search of adoptive parents.
Andres, now 11, was adopted and lives with a family in Northwest D.C. And now the Palisades-based group is hoping for another miracle: a D.C.-area home for his 14-year-old sister, Liseth, who was left behind in Colombia.
Liseth is one of nine Colombian children staying with volunteer host families in the D.C. area through the program, which will continue through the end of July.
Earlier this month, Liseth and Andres were embracing and goofing around together at a play area at the Lab School, which was hosting a Kidsave pizza-making event. Host families compared notes, and a translator was there to help address language barriers. Most of the children did not speak English, and not every adult spoke Spanish, but cooking side-by-side allowed everyone to at least interact tactically.
The next event, the Kidsave Olympics, will take place in Annandale, Va., from 1 to 3 p.m. this coming Saturday (To reserve a spot, contact juliab@kidsave.org).
Kidsave works with children ages 8 to 13 — older than the typical adoption age — from countries including Colombia, Russia and Kazakhstan. Organization president Terry Baugh said Summer Miracles, now in its 15th year, has brought more than 1,700 children to the U.S., with 80 percent of them adopted.
That rate of success in placing youths in adoptive families, Baugh said, has been "remarkable."
The group pays particular attention to repeats, she said. Two of the nine Colombians at the Lab School event — 14-year-old Carolina and 11-year-old Alejandra — also participated last summer but were not adopted.
"It's through no fault of their own," said Baugh. "They seem like they'd be a good fit for a family. We'd like to advocate particularly hard for them."
Liseth is another priority. It wasn't until Andres became more comfortable with English that his adopted family learned that he still had family back in Colombia.
Baugh was taken aback when she learned that Andres and Liseth had been separated. Her program works closely with the Colombian government, and most governments try to prevent sibling separation. After several inconclusive meetings with representatives from the country, Baugh ventured a guess that Liseth might have been kept there over concerns that she had become too old for adoption.
All the children in Kidsave stay with Summer Miracles volunteer host families, who spend the next month making a full-court press for their visitors.
The host families bring their Colombian visitors to weekly events with prospective adopting parents and encourage the adults to spend time with the children — taking them to family dinners and engaging them in summer activities, such as outings to local swimming pools or board game nights.
Baugh believes pairing volunteer families with these children, if even for a month, motivates the adults to find a permanent place for the kids. "When people have children in their homes, a lot of them fall in love," she said. "They're more than willing to do outreach to help the child. Some go to extraordinary lengths."
Liseth — along with Esperanza, 13 — is staying with hosts Elisa Rapaport and Michael Schoenbaum in Bethesda. Liseth and Esperanza, whom Baugh described as quiet and artistic, speak only Spanish — but there's an app for that. Rapaport says she has been communicating through her own limited Spanish, charades and a translator program on her iPad.
This is Rapaport's second summer hosting a child from Colombia. Her last guest was an 11-year-old girl who was adopted by a family earlier this month.
This article appears in the July 24 issue of The Georgetown Current newspaper.