Group Seeks OK for Halcyon House Use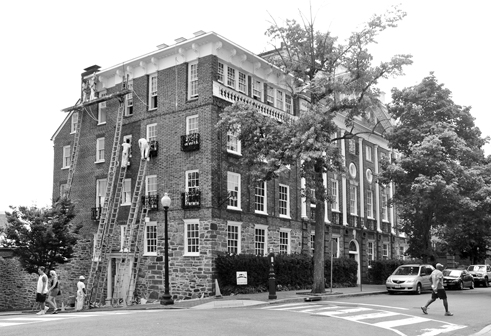 By Elizabeth WienerCurrent Staff Writer
The S&R Foundation, now delighting visitors with its intimate concerts and recitals at the historic Evermay estate, has laid out very different plans for the more recently purchased Halcyon House on Prospect Street in Georgetown.
In a new zoning application, the foundation says it wants to make Halcyon House the headquarters for its other major effort: research and collaboration on avoiding and managing catastrophes and natural disasters like the earthquake and tsunami that struck Japan two years ago.
The D.C. Board of Zoning Adjustment will hear the case for nonprofit use of the storied brick mansion on Sept. 10, when the foundation will discuss its planned measures to prevent an objectionable impact on the community. The application is also on the Georgetown advisory neighborhood commission's July 1 agenda.
Dr. Sachiko Kuno and Dr. Ryuji Ueno purchased the Evermay estate in July 2011 for $22 million and the Halcyon House a few months later for $11 million. Since then, the Kunos — who made their fortune with Bethesda-based Sucampo Pharmaceuticals — have emphasized their efforts to be good neighbors as they put the two historic houses to charitable use.
At Evermay, dedicated mostly to the foundation's arts and cultural interests, they promised to limit the number of events and attendees, with valet parking to ease long-standing traffic and parking concerns. Now at Halcyon, although the uses are different, they promise the same sort of limits to reduce the impact on neighbors, according to the zoning application.
The document notes, discreetly, that previous owners of the two houses used them for many events — some profit-making, and "without zoning approval" — that upset nearby residents. Now Halcyon, like Evermay, will hold limited events, but under conditions spelled out in a zoning order.
"Unlike past events, number, attendees, hours and days of events will be limited by conditions of BZA approval," the application says.
Most meetings, lectures and other events at Halcyon will include fewer than 50 people, and "often under 25," it says.
"We don't do weddings," said Kate Goodall, spokesperson for the S&R Foundation. "My least favorite part of this job is saying 'no' to brides."
Goodall said the Kunos are "very conscientious stewards" of the two historic properties.
The city's zoning code allows historic homes with gross floor area of more than 10,000 square feet to be converted to nonprofit use, a provision crafted largely to encourage preservation of large estates that most private owners would find too expensive to buy and too hard to maintain. Both Evermay and Halcyon House fit that definition.
The application explains why Halcyon House is "well suited" for its new purpose: headquarters for the foundation's International Institute of Global Reliance, a think tank dedicated to improving response to and management of natural disasters and other global catastrophes. It will also house an S&R program called "Illuminate," which encourages "passionate, forward thinkers" to develop and share innovative ideas in the arts, sciences and international relations.
The latter is "akin to an incubator," according to the application, and will provide "a limited number of emerging entrepreneurs a base of operations for up to six months, to live, work and collaborate."
Both programs will host meetings, seminars, lectures and retreats, as well as limited fundraising events "to support their mission." The house will serve as "a gathering place for international experts, scholars, scientists, entrepreneurs, and innovators," some needing temporary lodging.
The 1787 Federal-style house has undergone numerous additions and alterations, and it offers "a vast array of room types, sizes, shapes, and configurations," offering "multiple settings" for various types of gatherings. The foundation envisions no additions to the house or changes to its exterior.
The property now includes the historic main house, attached apartment units and an adjacent town house, all on one lot, totaling 26,000 square feet. The house also offers a library on the fourth floor and studio beneath, added by a previous owner. And since Halcyon was once used as a dormitory by Georgetown University, portions are already divided into compact guest rooms.
As to impact, the foundation envisions various activities throughout the year, but most with only 10 to 20 attendees. Because the programs are "internationally based," some participants will stay at Halcyon but very few are expected to bring private cars. There are 15 parking spaces on site, more than will be needed by the nine employees expected to work there.
The foundation is also promising a traffic study before the zoning hearing, coupled with a pledge to follow its recommendations. There are already plans to direct drivers to off-site parking lots with a shuttle service for the few events with more than 50 attendees.
The zoning application does state that the Halcyon House is "an ideal venue for corporations sharing the foundation's goals to host corporate events, meetings and retreats." But the number of attendees will be restricted, and — as with all events — "attendees would arrive and depart outside peak traffic hours, and under conditions that do not impact surrounding residents," the application says.
This article appears in the June 26 issue of The Georgetown Current newspaper.