Greengrass: A Filmmaker With Truth-Telling Talent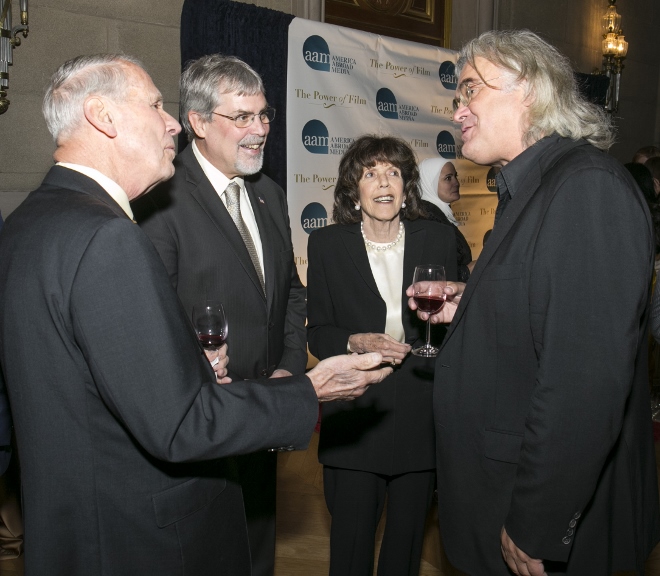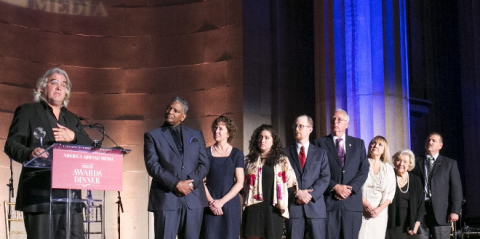 Nice guys finish last?
That adage fell by the wayside Thursday night as movie great Paul Greengrass, who directed the thrilling ship-hijacking film Captain Phillips, and the "real" Captain Phillips– Richard Phillips– were together at America Abroad Media's awards dinner.
On stage instead of on the bridge, the real-life Captain Phillips praised Greengrass: "You care about people and you are a brilliant director who manages to convey so authentically and realistically, the raw, human emotions that we feel during our difficult experiences."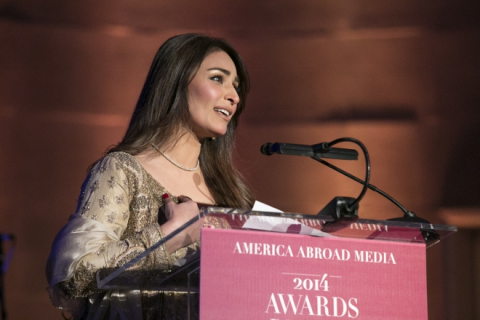 A video tribute to Greengrass came from Barkhad Abdi, now filming in Africa. Abdi and the Captain Phillips movie received Academy Award nominations, including Best Picture and Best Supporting Actor. In the film, Phillips was played by actor Tom Hanks. Abdi was the lead Somali pirate.
Gordon Felt, whose brother Edward was a passenger on the doomed United Flight 93, said of Greengrass, who wrote and co-produced the film United 93: "You have an extraordinary ability to being to life, to the lens and cameras, events that have deeply impacted so many."
United 93 is the story told in real time of passengers and crew rallying against hijackers on September 11, 2001. The plane, headed toward Washington, crashed in Pennsylvania. Felt is president of the Families of Flight 93, some of whom attended the AAM dinner and were introduced onstage.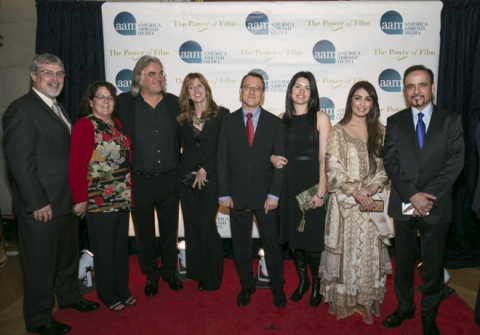 Greengrass called making the two films "the greatest privilege of my life. . . . In the end, it's the relationships with these men and women that are humbling for me as a filmmaker and if the films tell the story that they recognize, then on behalf of all the men and women who have worked on those films, I thank them for their grace and their sacrifice."
Upwards of 395 international dignitaries, ambassadors, journalists and other invited guests attended AAM's 2nd Annual Awards dinner at the Andrew W. Mellon Auditorium in D.C.
AAM, headed by Founder and President Aaron Lobel, promotes the free exchange of ideas through the development and dissemination of seminal TV and radio programming from South Asia to the Middle East and Africa.
Three others honored were Saudi journalist and TV host Turki Aldakhil, who contributed to the establishment of Al Arabiya News and was named as one of Arabian Business' 100 Most Powerful Arabs of 2014; leading documentary film organization Impact Partners; and Pakistani actress Reema Khan, who now resides in Virginia.
Impact Partners, led by Executive Director Dan Cogan, is committed to financing independent documentary cinema that addresses pressing social issues. It brings together financiers and filmmakers so that, together, they can create powerful films that entertain audiences, enrich lives and ignite social change.
Reema Khan received AAM's 2014 Partner Award for her role in AAM's series, Reema Khan's America. The series follows Reema as she sets out to discover her new country through the eyes of the average Pakistani, testing her preconceptions about life in the United States and exploring what it means to be an American.
The evening concluded with a splendid performance by the 2012 Nobel Peace Prize nominated Civilizations Choir of Antakya, Turkey. The choir is composed of Muslim, Christian, Jewish, Armenian, Kurdish and Turkish members who are priests, imams, nuns, teachers, students and seniors
The event was co-chaired by Gen. Michael Hayden and The Hon. Doug Wilson.
Turkish Airlines was a premier event sponsor.