Gray Picks Up Support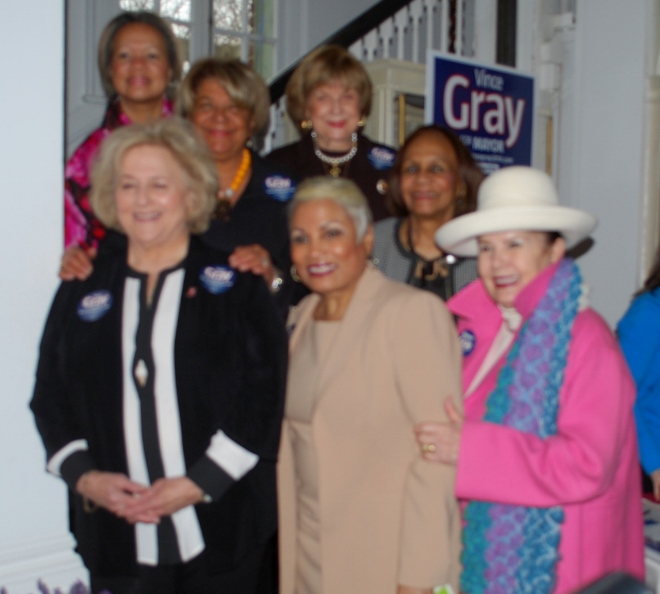 On the heels of endorsements from two D.C. Democratic Party caucuses, Women for Vince Gray for Mayor held a fundraiser Sunday afternoon in voter-rich Ward 4 as many supporters crossed ward lines to attend.
The event raised more than $12,000. Some 175 + people attended. No specific amount was designated to contribute in the event invitation.
Vince Gray noted that he announced his entry into the race on the late side. "As you know, I had reservation" about running, he said, but added: "No one is going to run me off."
Host committee included Yvette Alexander, Marilyn Brown, Sonia Gutierez, Sheila Harley, Barbara Lang, Grace Lewis, Mary Ann Miller, Gladys Mack, Martha Mitchell and Judith Terra.
Charlene Drew Jarvis, in her endorsement, said: "The mayor has moved the city forward and he did it under duress."
Gray won the Latino Democratic Caucus endorsement with 85% of the vote. He won the Asian American & Pacific Islanders Democratic Caucus endorsement with 66% of the vote. Each held separate straw votes on Saturday at H.D. Woodson High School in Northeast (Ward 7).
Maria Patricia Corrales who organized the Latino vote attended the fundraiser on Colorado Avenue NW.
Others who signed on for the fundraiser included Peggy Cooper Cafritz, Linda Cropp, Michelle Hagans, Alexis Herman, Sharon Pratt, Pauline Schneider andGretchen Wharton.