Gray, Evans Lift Shovel for Hurt Home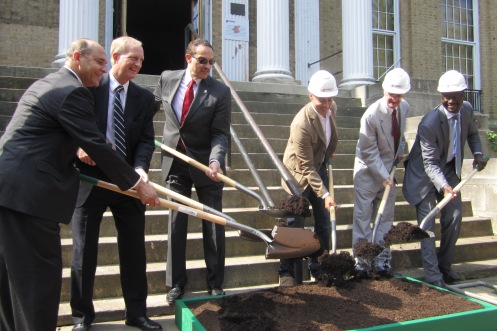 It looks like the final chapter has been written on the future of the Hurt Home. On Tuesday, Mayor Vincent Gray and Ward 2 Councilmember Jack Evans led a ceremony to turn a box full of dirt as a symbolic groundbreaking for reconstruction/reuse of the building at 30th and R Streets, NW, into a 15-unit condominium.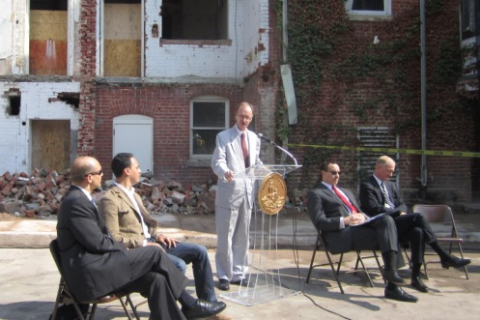 Gray and Evans were joined by Advisory Neighborhood Commissioner Charlie Eason, Gilberto Cardenas, principal for Argos Group, the developer, and other city officials and residents for a brief ceremony before the shovels turned. "We listened to everyone," Evans said, alluding to the opposition two years ago to an earlier proposal for almost twice the number of units. You "incorporated our suggestions," Eason added in agreement. Some two decades ago, there were similar protests over the city's decision to convert the property into a social service facility for foster children.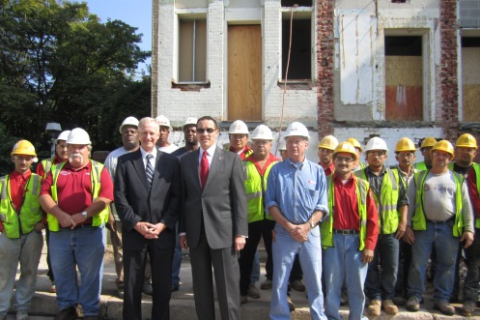 In addition to lowering the number of units, neighbors also expressed concerns about parking and traffic. These were alleviated in the current project by including 30 parking spaces. "We don't want to create more congestion in the neighborhood," said the mayor.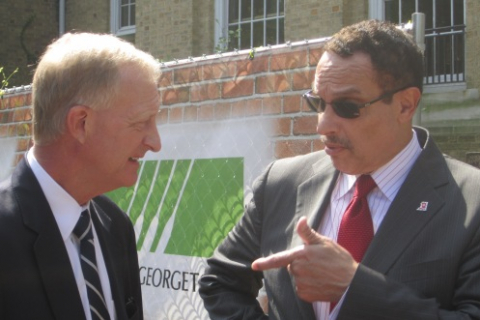 Named for the Hurt familty, one-time owners, the building has been rebranded as The Montrose for the park across R Street. Of the 15 units, 12 will be market-rate and three will be affordable, reserved for visually challenged persons.