Gray, Evans Honor a Leader of O & P Street Restoration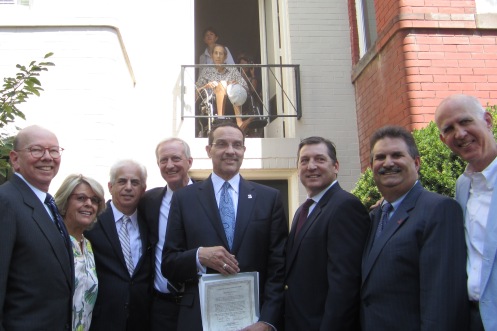 The project to repair O & P Streets in west Georgetown, with the old streetcar tracks, stone pavers and other historic features, is almost done. In anticipation of the official ribbon-cutting in a few day, Mayor Vincent Gray and Ward 2 Councilmember Jack Evans lead a community tribute on Thursday for one of the local leaders of the project, Tim Downs, now confined by illness to a wheelchair in his house in the 3300 block of P Street.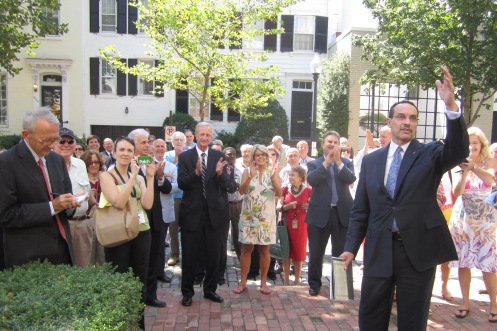 "This is one of the few projects that predate me on the Council," Evans said to Downs alluding to his over two decades of city hall service and the long-running legal and political dispute involving safety and historic preservation in fixing the street. "Without your effort it just wouldn't have happened," he added to the crowd of Georgetown residents and staff from the District Department of Transportation (DDOT), the city agency responsible for the restoration.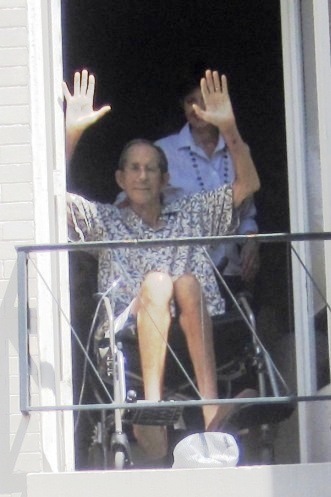 I'm proud to be an "honorary resident of Georgetown," Gray said. You "demonstrate how to make a community better." These streets are now "safe [and meet the] highest standards of historic preservation."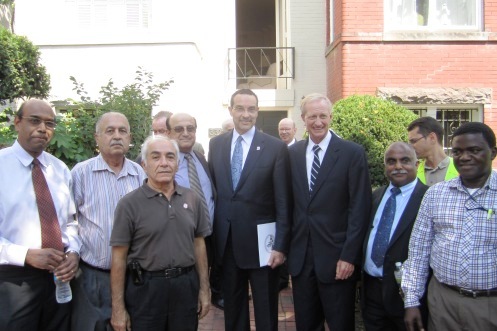 Downs, in good spirits with his wife Barbara at his side, acknowledged the well-wishers from their balcony. "I'm surprised and happy," he said with a broad smile and wave.
The tracks on O and P Streets are the last visible evidence of the District's citywide streetcar system, which stopped in 1962. Set in 350 lbs. cast iron yokes beneath the center of the streets, the O and P Street tracks are believed to be only surviving example besides a small section of similar track in London. The project was also an archaeological dig.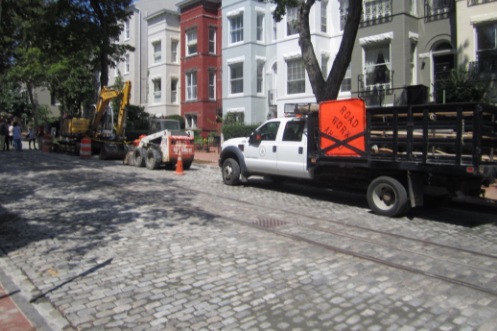 DDOT has also produced a YouTube video of the project.