Gospel, According To Hamilton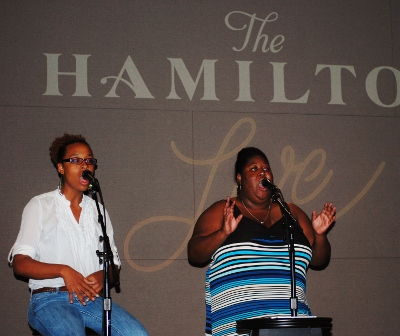 Contemporary gospel was the hot music fare at The Hamilton Live's cool venue as the city sweltered in temperatures around 100 degrees on Sunday afternoon.
Upwards of 300 came downtown to 14th and F NW to sway to the young band and its four singers called "The Honorable Voices of Praise" as it performed sets during one of the ongoing gospel Sunday brunches. Different music groups perform weekly. (TheHamiltonDC.com)
The Hamilton Live is a popular place to celebrate special occasions, and that proved to be the case with Sunday's crowd.
Seven adults celebrated their birthdays, among them motivational speaker Monté Twilley, who turned 58, and his wife Joan. They traveled from Baltimore to hang with the gospel music lovers who spanned all ages. She works in DC.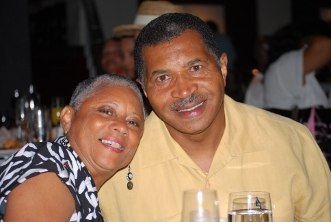 Twilley, a former journalist from out West, explained to new friends at the table, both unschooled in the intricacies of gospel music, what the difference is between Christian gospel and contemporary gospel. The gist is that Christian gospel is more "pop." Contemporary gospel is more "Afro-centric."
Regardless, the buffet was almost saintly.
There were four serving stations loaded with a generally southern-style menu: crispy fried chicken, collard greens, mac & cheese, sausages, chicken gumbo, scrambled eggs, shrimp with ham, smoked salmon, salad, baked ham, roast beef and desserts. The stations were open throughout the gospel performances for second and third helpings.
With the ticket, each person was entitled to a bloody Mary, a mimosa or a soft drink. One mimosa led to another and after two hours, the crowd dispersed happily into the heat.