A Good Time For All Across Party Lines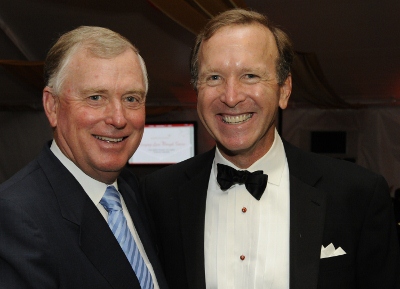 Coming to dinner for a fine cause Friday night were scores of familiar faces and an empty chair à la Clint Eastwood's gig.
Among the instantly recognizable in the sold-out crowd of 250 celebrating the Points of Light's Tribute Awards gala at the Japanese Ambassador's residence was Dan Quayle, vice president in the George H. W. Bush Administration, Al Roker of NBC News and ABC News Correspondent Deborah Roberts.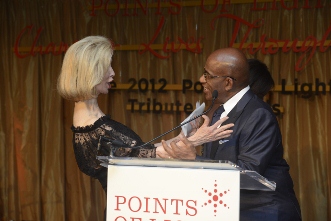 The gala was a night of bi-partisan good cheer, all in the wake of the edgy national political conventions, as noted by several speakers including Neil M. Bush, chairman of the Points of Light's board of directors. Bush called the gala "a unifying event….this is what my Dad had in mind." The elder Bush, who was instrumental in the creation of Points of Light, did not attend due to physical issues.
"In times of divisiveness in our country, service brings people together," Stefanie Weiss, chief communications and marketing officer in the organization's DC office, said in underscoring the collegial atmosphere.
In a warm-up act, however, emcee Roker--and who could blame him?-- poked a little fun at both parties when he brought an empty chair on stage and chatted to it. If President Obama were there, said Roker, he surely would tell the audience to contribute generously to Points of Light. And they did. Nearly $600,000 or so was raised.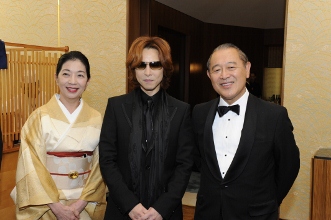 From the podium, Japanese Ambassador Ichiro Fujisaki joked that when he was asked what he thought about the upcoming American elections he proceeded diplomatically: "It's just like a Christmas gift, you don't say anything until the day you open the box, and say 'This is just what I wanted.'" When it was his turn to talk to the surrounding media, Quayle said the presidential race is "a horse race" but the debates could be the "very much a deciding factor."
The 2012 Tribute Awards, entitled "Changing Lives Through Service," honored five individuals who embody the vision of "a thousand points of light" that Bush first invoked during his acceptance speech at the 1988 Republican National Convention. Now, Points of Light is the world's leading volunteer service organization.
Receiving awards were the Honorable Bonnie McElveen-Hunter, chair of the American Red Cross; Wes Moore, Army combat veteran and host of the TV show "Beyond Belief;" Aya Higa and Naho Hozumi, both of Hands On Tokyo; and Scott Davis, chairman and CEO of UPS.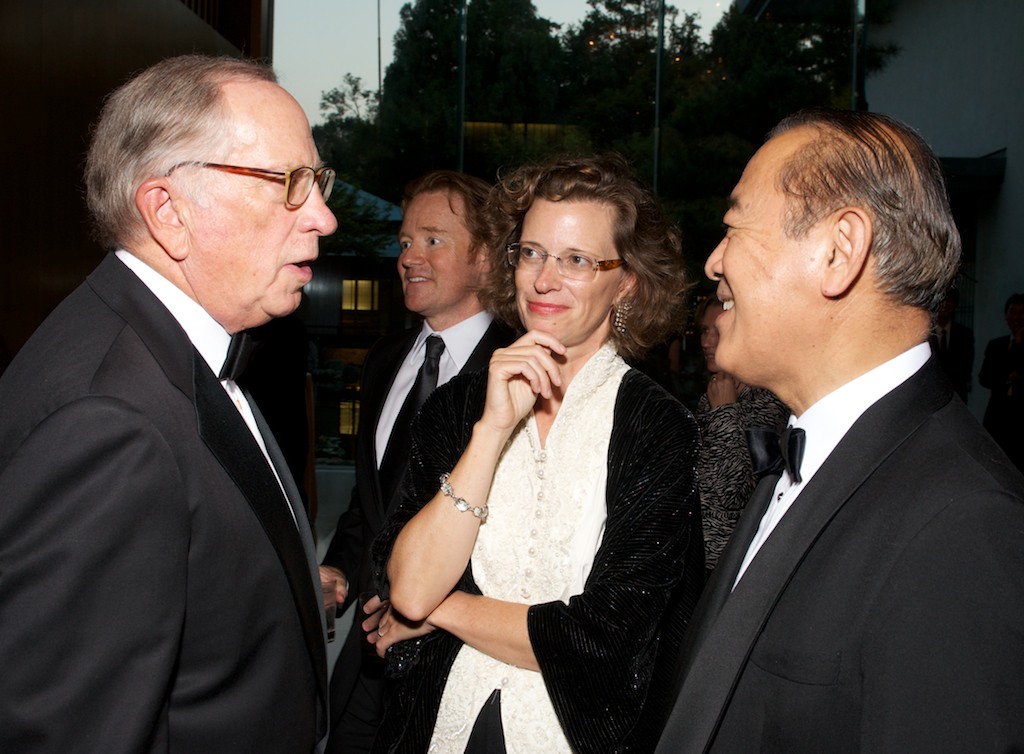 Deborah Roberts, Roker's wife was co-emcee of the event, which gathered corporate, political and community leaders to "celebrate individuals and organizations whose extraordinary contribution to volunteering and service has made their communities and the world better."
Tiny and gorgeously gowned Olympic Gold medalist ice skater Kristi Yamaguchi came with her husband, two-time U.S. Olympian ice hockey player Bret Hedican. By far, the tallest person in the room was NBA legend and NBA Global Ambassador Dikembe Mutombo, who played basketball at Georgetown University. Wearing rock-star shades was international musician and producer YOSHIKI, the dream subject of young fans there. Another celebrity was TV producer Ann Lopez, co- founder of the Lopez Foundation and a Points of Light Service Ambassador.
Guests included former Sen. Sam Nunn and his wife, Colleen; Esther Coopersmith; Brett O. Greene, president and CEO at American Management Corp. and his wife Tiffini; Mandy Ourisman and his wife, Ambassador Mary Ourisman; Roderick and Carla Hills; Calvin and Jane Cafritz; David Albritton; Donna Shor; Wilhelmina Holladay; Aniko Gaal Schott; author Alexandra de Borchgrave; and Francisco J. Sanchez, undersecretary for Commerce for International Trade at the U.S. Department of Commerce.
Neil Bush and Ambassador Fujisaki and Mrs. Fujisaki chaired the event benefitting Points of Light, led by CEO Michelle Nunn.

Points of Light also is holding an online auction until September 21 that features, among other items, dinners at DC-area restaurants, including Cafe Milano, il Canale, Assaggi in McLean, Va., and Le Zinc in the Cathedral neighborhood. www.biddingforgood.com/poltribute