Gondola Across the Potomac?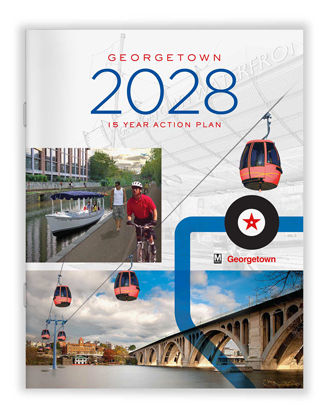 The recently released Georgetown 2028 Plan includes a bold idea: connecting Georgetown's commercial district with the Rosslyn Metro station via a gondola lift which would consist of a loop cable between two stations with individual cabins accommodating anywhere from four to 20 passengers. The cable moves continuously, driven by a bullwheel powered by an electric motor in one of the end terminals. A gondola lift can carry more than 4,000 passengers in each direction per hour. Their efficiency and reasonable construction costs make them an attractive option in cities. Gondolas are now operating in London (2012), Caracas (2010), Medellin, Colombia (2004) and Portland, Oregon (2006).
Similarly, Georgetown University would benefit from a lift, given the traffic issues confronting its campus shuttle.
The Plan proposes a hassle-free, scenic four-minute ride across the Potomac River. Of course, what's needed first is a feasibility study on the construction, costs, and operation of an aerial gondola. Then , if found technically and financially feasible, a community planning process would be initiated to determine next steps leading to construction of the gondola
What do you think? Take our survey below.