Gold Leaf Studios: A DC Treasure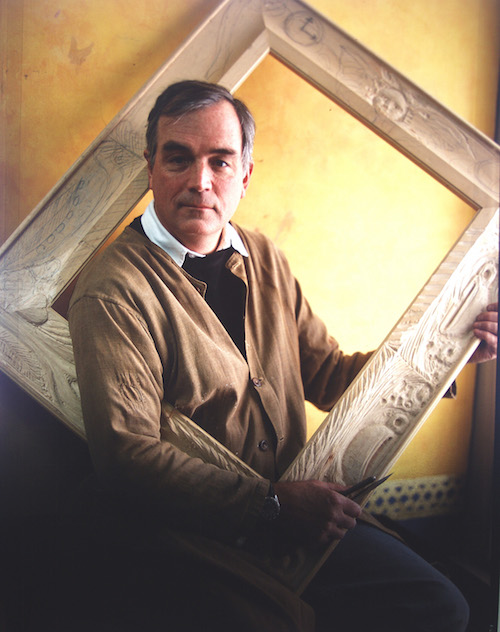 I have lived in DC for 15 years, and I still discover hidden treasures. My most recent discovery is Gold Leaf Studios, a gilding studio tucked behind 22nd Street NW.
I have never been an artist, but one day when I was 15 years old I decided to paint the beautiful Louis Philippe gilded mirror my grandmother had gifted me in pink. Of course, back then I didn't know it was a Louis Philippe piece and I did not know that gilding was real gold. I just thought it would look better pink. My parents have never been so mad with me.
This mirror lived in my parents' house until this past winter – when they finally gave it back to me, still pink. I asked a friend for a recommendation of who might restore this beauty to its former glory. That's how Bill Adair of Gilded Leaf Studios came into my life.
I was immediately fascinated by the studio, filled with frames, old objects, treasures. I loved Bill and how he told me that the pink paint had actually protected the gilding underneath, which was almost intact (of course I had to share this fact with my parents). And then I discovered I was three degrees of separation from Bill. That's when I knew I had to interview him.
My husband kindly came with me to pick up the mirror: even before knowing where we were going, he accepted to come with me to run a Saturday "errand." As it turns out, his former wife is a gilder, in New Orleans. In front of Gold Leaf Studios, he couldn't help but take a picture and text it to Madilynn Nelson. "That's Bill Adair's place," she immediately texted back. Apparently the gilding community is small.
I had to find out more. Here are Bill Adair's answers:
You are a gilder - is that the correct title? Please tell me exactly what you do?
Yes, I am a Master Gilder. My studio, Gold Leaf Studios, specializes in the gilding of frames, furniture, decorative objects, sculptures and architectural elements using traditional Renaissance-era gilding techniques balanced with the technical reversibility requirements of conservation.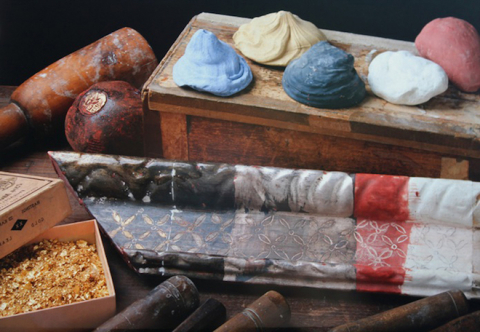 How did you decide to become a gilder? And what are the studies/ internships you did to become a gilder?
I began my career in frame conservation at the Smithsonian Institution's National Portrait Gallery, where I became fascinated with gilding and the history of frames. In 1975, the Smithsonian awarded me a grant to travel to Europe to learn about tools and techniques from the few remaining master gilders working in the Renaissance tradition. I studied under influential framers and connoisseurs Paul Levi and Henry Heydenryk.
Please tell me a little bit about your business.
I founded Gold Leaf Studios in 1982, so we are well into our fourth decade at this point. We are a team of 10 artists, craftsman and administrators. Gold Leaf Studios is an internationally recognized authority on frame fabrication, conservation, gilding, and large-scale architectural gilding. We provide comprehensive framing services including hand-carved reproduction frames of period styles as well as custom-designed modern frames. Additionally, with our collection of over 3,000 antique frames we offer clients extensive options in choosing an original period frame. We maintain museum standards of conservation, mounting, and matting to protect and enhance artworks. Our clients include private collectors, museums, galleries, historic homes, universities, government agencies, and architectural and interior design firms.
Gilder sounds like a profession from the past … how many of you are there? I assume it is a tight-knit community?
I don't have exact numbers but it is a small community. If you do a Google search for the number of gilders in the US, it will actually redirect your search to Master Golfers. I initially worked in near solitude but over the last almost 40 years have worked to revive interest in a craft that has largely disappeared from public consciousness.
I once told someone I was a gilder and his response was, 'Oh, you fix horses!'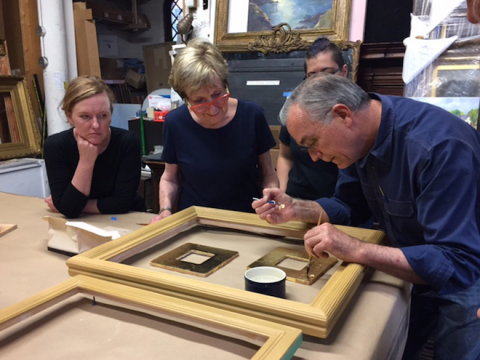 You also paint. Please tell me about your "doors" project.
The Gilded Doors Project is a multifaceted, ongoing conceptual art project, where abandoned doors become portals to cross-generational discourse, carrying with them the voices of artists and individuals. Collecting discarded doors and covering them with gold, I then take them out in public to be written and marked upon. The doors absorb the thoughts, words and images of their surrounding communities on an ever-fading surface, overlapping, abrading and referencing the history and value that is built upon it. Functioning as living timelines of interpersonal histories, the monetarily worthless doors, covered in gold and effectively "vandalized" by their viewers, speak toward the devaluation of goods and the intrinsic, sustaining value of intellectual property. I want to offer my audience a communal canvas and a platform where we can share our thoughts, dreams, hopes and prayers.
What is your favorite part about what you do?
Saving old things from junk piles, selecting frames for people's painting and teaching eager students.
Bill Adair is a gilder, a painter, an artist, an entrepreneur. Also a magician of sorts. He restored my mirror; and he did much more. My "new" mirror has inspired a complete renovation of my bathroom. It will be transformed from black and beige to white and gold.
Gold Leaf Studios can be contacted at gls@goldleafstudios.com. The next workshop is scheduled for May 2017.