Going out on a limb...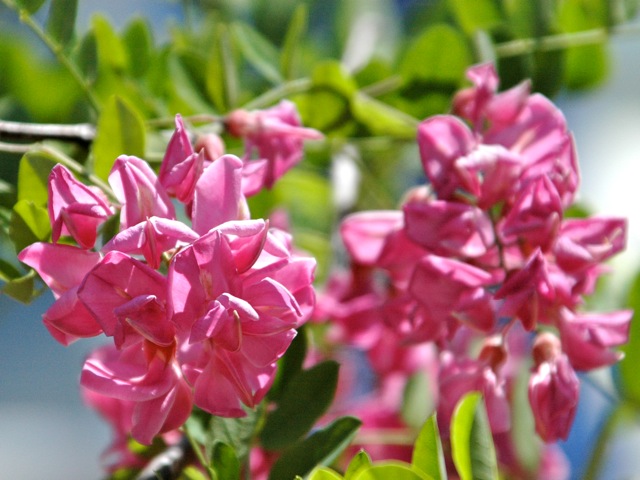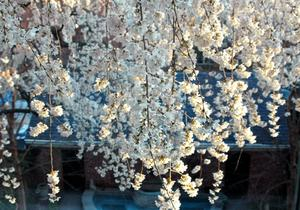 Last spring, my weeping cherry tree was a forty-foot display of dripping, sweet white cherry blossoms that put all other trees to shame. I was extra thrilled, because it had lost a major branch back in the "Blizzard of '10" and it was so beautiful that I didn't mind the prospect of its fruits relentlessly raining down on the patio, squishing purple smears on to bluestone and wicker.
The fruits fell, annoying as always, but then the tree started to drop yellow leaves. All over the lawn. Little yellow leaves. It looks like fall. Being a person of fastidious Dutch descent, little yellow leaves littering my lawn and patio in the middle of summer drive me crazy. It's too messy!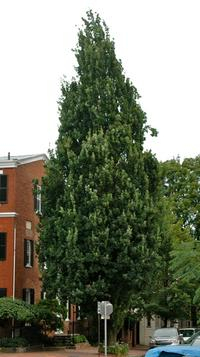 I did what any normal person would do. Just after the Fourth of July, I called my arborist and had him test the tree. The lab reported no condition that would explain this leaf loss. The arborist's conclusion is that this 60-year-old tree was too dry since there hadn't been much rain.
I was puzzled. My irrigation system was working. In fact, the ground had been so soft and muddy, I'd concluded it had suffered from too much water. I'd done what any normal person would do. I'd turned the sprinkler system down, knowing that sprinkler systems are not necessarily designed for maintaining large trees and shrubs. Indeed, running sprinklers superficially several times a week instead of thoroughly once a week can actually harm tree roots. Tree roots, other than taproots, tend to grow in the top 6-36 inches of soil, the majority in the top twelve inches, so overwatering with an irrigation system can result in root rot just as under watering dries roots out.
Alarmed, I examined the trees in front of the house. My straggly magnolias were also dropping leaves. One was particularly stricken so I hand watered it, letting the water soak in long and deep. Two feet from its trunk, I discovered a sprinkler head that had been buried by some long-departed, feckless landscaper who'd piled on successive layers of mulch without bothering to liberate the irrigation system. The sprinkler head has since been repaired and the tree has been watered regularly. Its leaves have stopped falling, and new growth has miraculously appeared.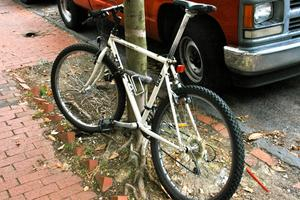 My street tree, on the other hand, a gorgeous Japanese zelkova (Zelkova serrata), was dry but I have been watering this puppy more properly since it isn't covered by the irrigation system. I feel a special affinity with street trees: Theirs is a very stressful life. For one thing, their root space is limited. Unlike trees that grow out in the field, their roots are hemmed in by concrete, asphalt, and who knows what underground obstacles so their roots can't grow beyond their drip line as they otherwise would. Think of them as urban bonsai trees.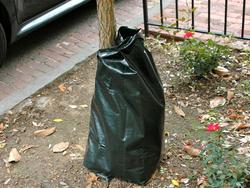 Adding insult to injury, the soil around them is inevitably trodden upon (and peed upon by dogs) so it gets very compacted and compacted soil doesn't hold much oxygen, which roots need, nor does water penetrate it easily. Many street trees also have plantings at their bases, which compete for the little water that they do get, or have too much soil and mulch piled on them. I was horrified to learn that liriope, which is planted around the base of my zelkova, is especially bad since it forms thick mats that prevent water from getting to tree roots. I will yank it when the O&P Street construction project is finished and the brick sidewalk has been repaired. Better to disturb those poor roots only once.
Back to watering. My street tree strategy is to leave my hose on low once a week or so, letting it soak the ground in the tree box. It's best to leave it running for about thirty minutes, which works well if, like some people, you lock yourself out of the house and have to find the spare key. Smart people, like someone around the corner from me, wisely put an orange cone of some sort near the hose to warn hapless pedestrians not to trip.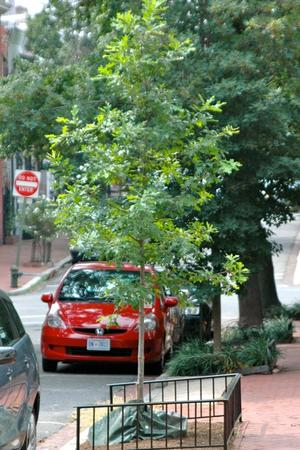 All new trees need regular, thorough watering. They should be watered deeply once a week for at least the first couple of years after installation to assure good root development. Aside from hand watering, you can place a soaker hose around the base of a new tree and hook your hose up to it when you need to water. Or you can get a reservoir device like an ooze tube, plastic saucer, or gator that slowly disperses water once it is filled. I have a neighbor who is dutiful about filling the gators around the brand new street trees near his house, and I'd like to encourage everyone to water the nearest street tree as well, established or new. I say this on behalf not only of all Georgetowners, but also on behalf of "Trees for Georgetown", which annually does such a great job replacing dead and missing trees.
As for my weeping cherry tree, additional water and rainfall has not slowed the falling leaf problem. I am going to do what any normal person would do. I will seek a second opinion.