Glover Park Residents Push for Variety of Parking Fixes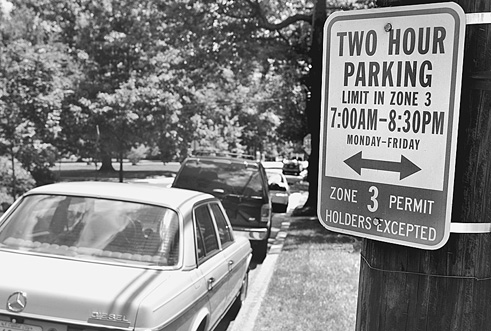 By Deirdre BannonCurrent Staff Writer
In Glover Park, advisory neighborhood commissioners say scarce parking continues to be the No. 1 complaint they hear from residents.
Improving the neighborhood's public transportation options and adjusting the hours of enforcement for resident-only parking were among the recommendations the community had for the D.C. Department of Transportation at last week's commission meeting.
"If you work late or if you come home after 10 p.m., you can't find parking," one resident told Angelo Rao, the department's parking manager. "But public transportation is limited at night — it's almost suburban out here — so there's actually an incentive to drive if you live in Glover Park."
Last year's elimination of the N8 bus route and cuts to the D1 and D2 bus lines — as well as the neighborhood's exclusion from proposed new streetcar routes — left many at the Nov. 8 meeting feeling "ignored" by the city's transportation agencies, they said.
"Infrastructure and parking are tied together and need to be addressed together," said resident J.P. Montalvan. "The Circulator bus should go all the way up Wisconsin, to link us with Tenleytown and American University and points further north like Van Ness."
"We've been begging for it for years," advisory neighborhood commissioner Brian Cohen emphasized to Rao. "We need a comprehensive approach that makes parking easier by making mass transit easier."
Cohen and others said the worst time to find parking in parts of the neighborhood is on Sunday nights, when resident-only parking is not in effect. There's a similar impact on weeknights, when many return from work after resident-only parking ends at 8:30 p.m. Part of the problem, Cohen says, is the number of out-of-state cars that park in the area overnight.
"At least 30 percent of cars parked on the street aren't registered to people who live in Ward 3, and that's a concern," he said.
Community members proposed to Rao that resident-only parking be expanded to include Sundays and later hours during the week. They also want stronger enforcement for out-of-state cars that consistently park on the streets.
With access to Metrorail limited, Glover Park residents railed against recent comments on Cleveland Park and Woodley Park neighborhood listservs suggesting that parking near Ward 3's Metro stations should be limited to people who live in those neighborhoods.
"We would revolt," said Cohen. "We pay taxes in Ward 3 just like they do, but we don't have a Metro station — Glover Park residents rely in part on going to those neighborhoods to take Metro."
One Wisconsin Avenue resident said vendors like plumbers and other repair companies refuse to service residences on that street, saying they have no place to park their trucks and don't want to get ticketed.
Some expressed a desire for the city to establish public parking garages, like the one in downtown Bethesda. Rao said his agency is starting to look into whether privately owned garages would be willing to partner with the city to open spaces to the public overnight.
Concerns also came up about visitor parking, with some saying that if residential parking is expanded, short-term parking for guests could be squeezed out. According to Cohen, a 2011 survey the commission conducted revealed no consensus on a visitor parking solution that would balance varying needs.
To attend to the city's growing pains, the Transportation Department is processing feedback on parking from residents and business owners throughout the city as officials consider changes to parking rules. Over the past several months, the agency has held six "parking think tank" meetings and one online chat, and posted a survey (now closed) on its website. The department is also assessing pilot programs for visitor parking permits and enhanced residential parking permits.
The Transportation Department will hold a parking summit on Dec. 4 from 6 to 9 p.m. at One Judiciary Square, 441 4th St. NW, to present its findings. Rao said the department doesn't expect to have solutions ready at that point, but will instead highlight the issues respondents believe are most important.
To submit feedback on parking, contact Rao by email at angelo.rao@dc.gov.
This article appears in the Nov. 14 issue of The Georgetown Current newspaper.