Glover Park Residents Concerned Wisconsin Avenue Streetscape Threatens Pedestrian Safety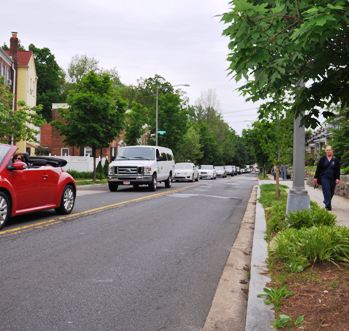 Glover Park Residents for Pedestrian Safety have expressed concern to D.C. Department of Transportation (DDOT) that safety and pedestrian access in residential Glover Park and many adjoining neighborhoods will be greatly impacted by the soon-to-be-completed Wisconsin Avenue Streetscape project.
More than 120 residents signed a July 23, 2012 letter to draw attention to street and crosswalk improvements needed to address the safety of pedestrians using Tunlaw Road, 37th Street, Calvert Street, and other neighborhood streets in Glover Park. "As a result of the Wisconsin Avenue Streetscape project, the busy Wisconsin Avenue corridor in Glover Park will be reduced from three lanes each way to two during peak hours and from two lanes each way to one during off-peak hours. This corridor serves not only as access to Glover Park's homes, businesses, and recreation, but also to those in Burleith, Georgetown, Cathedral Heights, Observatory Circle, and other neighborhoods."
The residents pointed to DDOT's own admission that "no prior study was made of the potential Streetscape traffic overflow onto residential streets." In a follow-up traffic study released by DDOT in June, construction restriction on Wisconsin Avenue on select days in April during off-peak hours greatly increased traffic on 37th Street alone:
An estimated 2,840 additional vehicles diverted onto 37th Street to avoid work zone delays. This would account for most of the 3,550 increase in volume through the 37th Street/Tunlaw intersection.
In their letter, residents acknowledge that DDOT has responded to numerous resident complaints by agreeing to add two crosswalks and improve the problematic intersection at 37th Street and Tunlaw Road. However, residents also express frustrations with DDOT:
(1) DDOT disregards the heavily used 1/3 mile stretch of 37th Street between Tunlaw and Whitehaven Parkway, where no stop signs or crosswalks exist despite hundreds of daily pedestrian crossings, increased Streetscape spillover traffic, and speeding cars.
(2) No plans exist for future study of spillover traffic onto residential roads after Wisconsin Avenue lane reductions and medians are in place.
(3) Residents were promised that the lane reductions and medians were "reversible" if shown to be a detriment to pedestrian safety on residential roads, but no plan for reversal or for further traffic modifications has been made public.
(4) To date, DDOT has not responded to the resident group since May 4th, despite numerous attempts to reach DDOT.
With lane reductions on Wisconsin Avenue in Glover Park, residential streets such as 35th Street, 36th Street, Observatory Circle, Fulton Street, and New Mexico Avenue will become logical alternatives for spillover traffic, affecting residents in Georgetown, Burleith, Observatory Circle, Cathedral Heights, and Wesley Park, among others. Additionally, as drivers seek to avoid Wisconsin Avenue's backups, Glover Park, Burleith, and Georgetown businesses may suffer.