Glover Park Hotel Debuts with Upgrades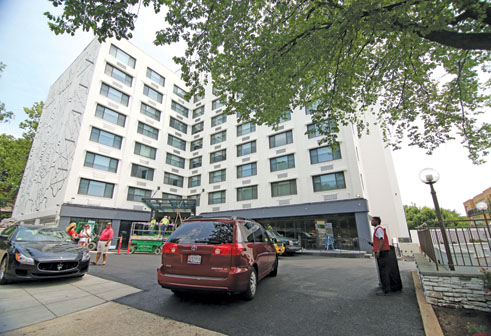 By Mark Lieberman
Current Staff Writer
The former Savoy Suites in Glover Park reopened as the Kimpton Glover Park Hotel last week, boasting renovated accommodations and a new Italian restaurant, Casolare.
Kimpton Hotel Group took over management of the former Savoy Suites at 2505 Wisconsin Ave. NW in April 2015, with the goal of adding to the group's D.C. portfolio of 10 hotels by incorporating many of its signature services into the Glover Park location.
Internationally regarded artist Michele Oka Doner had a hand in designing the hotel, including the mural on the side of the building — inspired by the 3,000 acres of parkland donated to the city by Charles Glover, for whom the neighborhood is named.
Hotel manager Jennifer Harris said the feeling of the building is "very light and airy and crisp, just like if you were walking through the park." The suburban atmosphere of Glover Park makes for a pleasing blend, Harris said.
New amenities include a partnership with City Bikes for guest rentals; telescopes in the rooms to allow views of downtown; a nightly evening wine service with entertainment on Wednesdays; a custom tea blend crafted by local producer Capital Teas; and periodic activities for kids, like a caricature artist or a photo booth. The 2,000-square-foot gym will be open to guests and local residents.
Area residents will get 15 percent off when staying at the hotel by using the discount code "glover," said Matt Wexler of Foxhall Partners, representing the developer at Thursday's meeting of Advisory Neighborhood Commission 3B (Glover Park, Cathedral Heights). Wexler noted that the hotel's community room, kitchen and gym have all been improved.
On the Glover Park listserv, ANC 3B chair Jackie Blumenthal said she's excited by the prospect of a hotel making a concerted effort to fit in with the neighborhood. "We should be pleased to have our community recognized by the hotel's name and be sure to patronize it," Blumenthal wrote.
Meanwhile, the 156-seat Southern Italian restaurant Casolare will be open to the public and for room service at the hotel beginning in July. Restaurant owner Michael Schlow previously worked with Kimpton to open The Riggsby in Dupont Circle's Carlyle Hotel last year. The group reached out to him about collaborating again in Glover Park. Schlow said he eagerly committed, sitting down for meals in the neighborhood and surrounding areas to get a sense of possible voids in the local restaurant scene.
He noticed a significant presence of Italian food, including nearby restaurants like Black Salt and Al Dente — but none of them offered the Southern Italian flavors he often craves. The new restaurant does just that, with an emphasis on seafood, fresh vegetables, citrus and olive oil-based foods.
Schlow said developing that concept proved a challenge in a hotel that doesn't share the Southern Italian theme. He also wanted to ensure that the restaurant stays away from mere niche appeal, reaching for a customer base as broad as possible, including both hotel guests and neighborhood residents.
The restaurant's "rustic" interior — with a centrally displayed pizza oven, handmade tiles and woodwork finishing, as well as artwork designed by Schlow's wife, Adrienne — aims for a balance of refinement and broad appeal, he said.
Inspirations for dishes range from Capri, Sardinia, Positano, Sorrento and Naples, among others, Schlow said. Seasonal changes will accommodate fresh vegetables. "There'd be something for everybody," Schlow said. "I don't think anybody would walk in there and say there's nothing to eat."
In addition to breakfast, lunch and dinner, Casolare will offer a robust smoothie and pressed-juice program, a wine menu largely comprised of Italian specialties, and catering for private events.
"I'm a chef by training, but I'll be the first one to tell you I think service is more important than food," Schlow said. "I'm just really excited to be in the neighborhood."
This article appears in the June 22 issue of The Georgetown Current newspaper.