Glover Park filmmaker connects ozone issue to climate change in documentary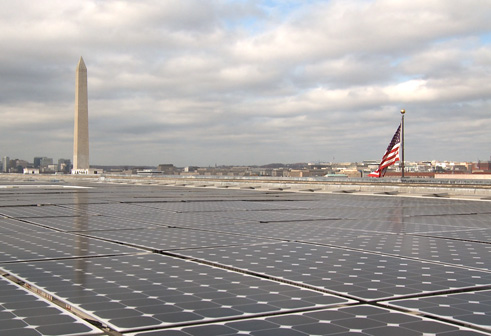 By Katie Pearce Current Staff Writer
Though filmmaker Dan Evans doesn't consider himself an activist, his documentary "Shattered Sky" — debuting tonight at the Environmental Film Festival in the Nation's Capital — contains an unmistakable call for political action.
The film, which Evans created along with co-director Steve Dorst, looks to the past to offer a potential model for addressing climate change at the international level.
In September 1987, leaders from around the world convened for a few tense days in Montreal to tackle the crisis of ozone depletion. They faced hard scientific evidence that chlorofluorocarbons, then used as propellants in aerosol cans for hairsprays and many other products, were harming the ozone layer and in fact had already torn open a "hole."
It had taken a long time to reach that point — years of skepticism and debate about the severity of the issue and its impact on human life. And for many countries, the economic stakes for banning chlorofluorocarbons, called CFCs, were high.
Discussions in Montreal lasted late into the nights and grew nasty at times. The United States was pitted on one side against Europe.
But in the end, all 192 countries in the United Nations signed onto the Montreal Protocol, agreeing to phase out CFC products and eventually prohibit them outright.
Twenty-four years later, the ozone hole is now shrinking, and according to "Shattered Sky," it will close entirely during this century.
That success story doesn't get much attention anymore, Evans said, but those in the know look to it as an important way to "kickstart the discussion" about today's pressing issue of climate change.
A former Environmental Protection Agency employee, Jeff Cohen — who became executive producer of "Scattered Sky" — recognized that a documentary could help make this connection more explicit.
"He knew the ozone story fell into the cracks — people had forgotten about it," Evans said. "He suggested it could be a good way to address climate change."
That was back in 2007. Evans and his partner Dorst had worked together on a previous sports documentary about a race in Africa, as well as on contract assignments for various D.C. nonprofits and organizations. With the money they'd raised through that work, they were ready for another full-length project.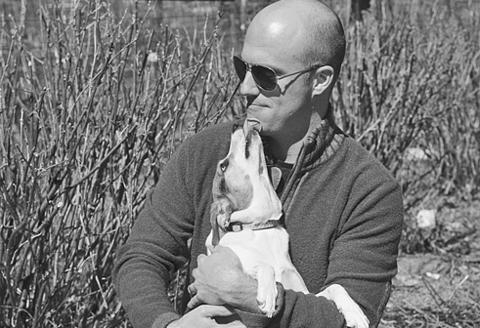 Evans, who has a master's degree in international relations from American University and now lives in Glover Park with his wife, concedes that he knew "not a lot" about the ozone crisis when he started. He spent the summer of 2008 making his way through "a stack of about 20 books," he said.
The filmmakers then conducted dozens of interviews with experts — industry leaders, scientists, journalists, a Nobel Prize winner and politicians who had been involved with the Montreal Protocol, among others.
Though they knew they wanted to parallel the ozone crisis with the climate change crisis, they faced the challenge of narrowing their focus.
Ultimately, the carbon-dioxide emissions from coal stood out as the "the best parallel in the climate story to the CFCs in the ozone story," Evans said.
A description of the film uses words that can apply to both the CFCs of the 1980s and C02 emissions today: "An invisible compound threatens Earth's life-support systems, with effects so pervasive that scientists sound the alarm, businesses must innovate, politicians are forced to take action — and American leadership is absolutely vital."
The documentary focuses on the ozone story — using vintage TV clips and ads and newspaper accounts, along with the recollections of its interviewees.
In its present-day footage, "Shattered Sky" uses a "stylized look," Evans said, with slow-motion and time-lapse shots intended to convey a "stuck" feeling.
The film doesn't suggest a direct course of action for climate change, but points to modest steps toward progress — like work on the Clean Air Act legislation in this country — and presses for more urgency. It positions the United States as a potential worldwide leader for reducing coal dependence and strengthening economies through renewable energy development.
As one panelist, journalist Jeff Goddell, says in the film: "The central issue in solving this problem is, what is America going to do? This is the American moment."
"Shattered Sky" will get its first airing as part of the Environmental Film Festival, which opened last week and runs through Sunday. The event, which turns 20 this year, is offering 180 films at venues throughout the area.
Evans said the festival is a perfect fit for his film — providing "an engaged environmental audience" with minds already open to the subject matter.
"Shattered Sky" will show tonight at 7:30 p.m. at the Chevy Chase Presbyterian Church, and again on Sunday at 3:30 p.m. at the Carnegie Institution of Washington. The latter showing will include a panel discussion featuring Evans, Dorst; journalist Goddell, who wrote the book "Big Coal"; and Larry Schweiger, president of the National Wildlife Federation.
Next up, "Shattered Sky" will air on Maryland Public Television sometime this fall, Evans said — ideally to coincide with the 25th anniversary of the Montreal Protocol.
More information about the film is available at shatteredsky.com, and details on the film festival are at dcenvironmentalfilmfest.org.
This article appears in the March 21 issue of The Georgetown Current newspaper.