Glover Park ANC to Solicit Views on Wisconsin Ave. Traffic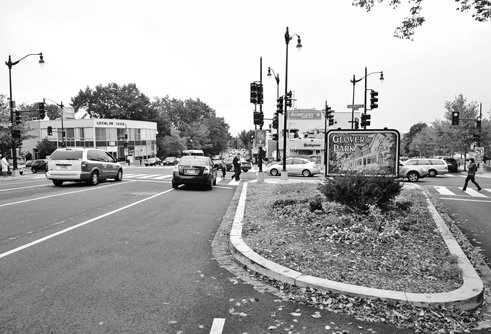 By Graham VyseCurrent Staff Writer
Glover Park's advisory neighborhood commission is soliciting feedback on the Wisconsin Avenue streetscape project ahead of an upcoming D.C. Council hearing on the subject.
At last Wednesday's commission meeting, commissioner Jackie Blumenthal encouraged residents to complete an online survey she and her colleagues are creating to measure satisfaction with the current traffic lane configuration between Whitehaven Parkway and Calvert Street.
"We don't feel that we should be making this decision all by ourselves," Blumenthal said.
Last year, the D.C. Department of Transportation redesigned Wisconsin Avenue from Garfield Street south to Whitehaven. The agency added a painted center median with dedicated left turn lanes and widened some sidewalks in an effort to calm traffic and improve pedestrian safety.
The change has generally been well-received in Glover Park, but residents in communities to the north and south have argued that the reduction in travel lanes has generated terrible traffic congestion.
Cathedral Heights residents successfully pushed the Transportation Department to undo the section of its work north of Calvert Street. Many Georgetown and Burleith residents want to see the same happen throughout Glover Park, and their advisory neighborhood commission voted Sept. 30 to call for a second northbound travel lane.
Georgetown commission chair Ron Lewis said the city has made a variety of minor adjustments to speed traffic — and those changes have failed to improve traffic flow, demonstrating a need for a more drastic overhaul. "They're out of tweaks," he said.
Blumenthal said the Glover Park commission's survey will be posted on the commission's website, advertised in next month's Glover Park Gazette newsletter and distributed through neighborhood listservs.
Commissioners said they want community feedback because they will likely be testifying on the topic before the D.C. Council Committee on Transportation and the Environment.
Ward 3 D.C. Council member Mary Cheh, who chairs the committee, originally scheduled a streetscape hearing for Oct. 30, but it has been postponed until Dec. 4. Members of the public can learn more — including how to register to testify at the hearing, which will be held at the Guy Mason Recreation Center — at anc3b.org.
Staff writer Brady Holt contributed to this report.