Glover Park ANC Seeks Parking Limits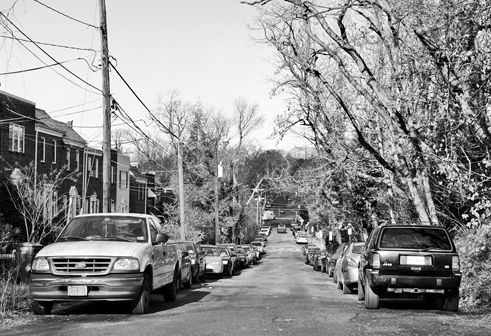 By Brady HoltCurrent Staff Writer
When residents in the southeast corner of Glover Park can't find street parking in front of their homes, many face a several-block trek to another section of the neighborhood.
This problem is exacerbated, residents said at the local advisory neighborhood commission meeting last Thursday, by the proximity of the Glover Park commercial strip.
Commissioners voted unanimously to request that the D.C. Department of Transportation use that southeast section of Glover Park as a test case for "enhanced residential permit parking." In order to reserve more parking for residents, this program restricts one side of the street to vehicles with permits from a particular parking zone — in Glover Park, that would be Zone 3 — while retaining the normal two-hour grace period on the other.
The commission's resolution suggests that the enhanced restrictions should apply to Hall and W places, and Tunlaw Road south of 37th Street, which the resolution calls "a closed-off area with no adjacent streets for parking."
"If it works well there, it gives us a good argument in favor of expanding it through the rest of the neighborhood," said commission chair Brian Cohen.
Enhanced residential permit parking has been popular in parts of wards 1 and 6 for several years, and last month began spreading throughout most of Ward 1. Transportation Department officials have said it not only sets aside more spaces for residents, but it also eases enforcement because officers only need to see an illegally parked car once, instead of twice more than two hours apart.
Transportation Department spokesperson Monica Hernandez wrote in an email that the agency hasn't yet considered the commission's request for enhanced protections in Glover Park. "We look forward to receiving the ANC 3B resolution for review and consideration of implementation as soon as practicable thereafter," she wrote.
So far, the agency has focused the enhanced parking program not on areas facing general parking shortages but on those near "special traffic generators," like a business district. "We fit the criteria right now for that," said commissioner Jackie Blumenthal, who represents that section of Glover Park.
Furthermore, said Blumenthal, "There are parking garages across Wisconsin Avenue, and people aren't using them because it's just as easy to park for free on the street," she said.
In other parts of the city, the enhanced protections are in place only during standard two-hour parking restriction hours. Citing nighttime issues stemming from the neighborhood's restaurants and bars, the Glover Park commission requested 24-hour restrictions. "If anyone in my neighborhood goes out at night and comes back at 10:30, there's nowhere to park," said Blumenthal.
Cohen warned residents that restrictions alone might not solve the parking problem. "It's entirely possible that this won't make a difference, because it may be more residents trying to park on the street than there are spaces," he said.
This article appears in the Dec. 19 issue of The Georgetown Current newspaper.