GLBT League Shows Muscle at Tennis Club of Georgetown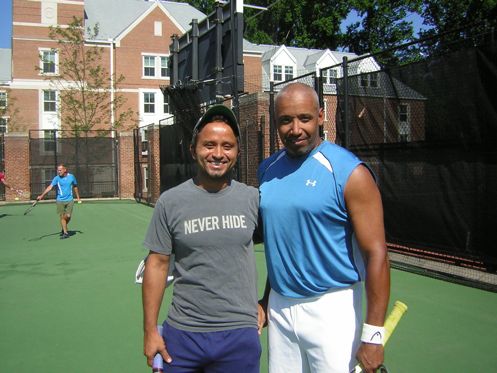 They wanted to take their shirts off. But tennis being what it is, and the members of the Capital Tennis Association (CTA) being as mannerly as they are, the men glistened fully clothed as the mercury crested the 90-degree mark well before brunch hour at the George Washington Tennis Center's Sunday league match.
Lee Stubbs, wearing bright orange (below left), greeted organizer Rahsaan Burroughs (below, center) as the latter
Image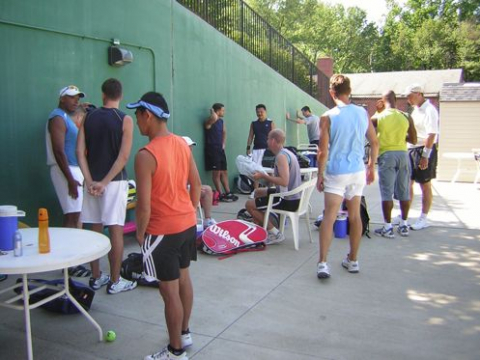 checked off all the players and analyzed the tournament grids. "I know you're busy," Stubbs said. "That's okay."
Burroughs was busy -- quickly lining up doubles pairs, making sure that Court #1 included the top players, and that each court foursome would have a competitive match. "We have all levels from beginners to college players," Burroughs said.
The league was formed in 1994 as a not-for-profit organization to coordinate and promote the sport of tennis within Washington's gay and lesbian community. It now has over 200 members.
"I'm in my sixth year," said Stubbs, a Dupont Circle resident. His partner on the court, Jonathan Ramos, joined the league when he moved to Washington. "I played in the Boston league. I joined again when I came to D.C. -- it's great to meet people," he said. "I'm having a ball."
Image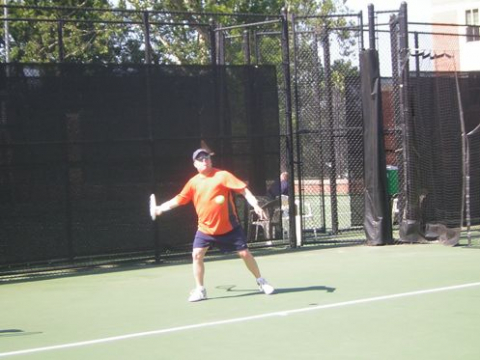 The tennis, however, is serious. As Burroughs got the matches started, cannon-speed serves and curving dropshots sliced across Court #1. "I grew up watching Stefan Edberg and Boris Becker," said IT auditor Jesse Singh, who lives nearby in Cleveland Park. In his profession, the goal is to look for aberrant behaviors, fraud, and tricks. Like when the service receiver deceptively aims a bullet return down the alley line. Gotcha!
The more strategery, the better -- GWTennis director Greg Munoz is not worried. While his assistant Mustafa Ulukan gets ready for the afternoon women's clinic and the weekly tennis social at the 11-court facility off Foxhall Road, Munoz is already mentally preparing for the arrival of the GWU Men's varsity squad, of which he is head coach. "We're going to have a great team this year."
The Capital Tennis Association is also ready for September. The league's Capital Classic tournament, to promote the sport in the LGBT community, is expected to draw more than 300 participants and spectators from the metropolitan area and other U.S. cities. The Capital Classic is also a charity event, this year benefitting the "Team DC Student-Athlete Scholarship" for LGBT student-athletes who demonstrate dedication to both academic and athletic excellence, as well as being positive role models for the LGBT community. To learn more about this year's charity visit the league's website. More information is also available at capclassic@capital-tennis.org.
The George Washington Tennis Center offers private and group lessons, clinics, ball machine use, and fun for all ages. More information is at (202) 242-6100.
Image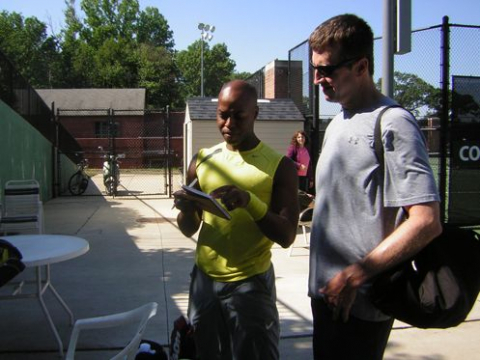 CTA organizer Rahsaan Burroughs shows the draw to a league player.