Girlfriends Give Back ... To Homeless Children
Girlfriends Give Back, an event organized and founded by WUSA-9's popular anchor, Lesli Foster, supports small charities that make huge contributions in the community. This year, Girlfriends Give Back is supporting The Homeless Children's Playtime Project. It provides children without homes to call their own, the basic right every child should have: the ability to just play and just BE. But, The Homeless Children's Playtime Project is much more than just a play space. HCPP provides weekly programs for children, offers a chance for them to learn through art, imaginative play and provides parent support, clothing, food drives, and field trips. It even advocates for affordable housing and safe shelters for all families.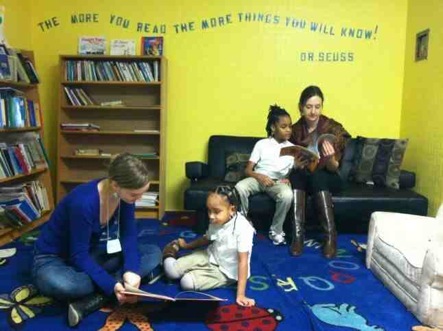 "I am so personally moved by their mission," said Lesli Foster.
This Girlfriends Give Back Event is about harnessing the power of small donations - to make an impact. It started with an idea. What if you could take what you spend on lunch for a day, a week or a month - and give it to a small charity. What if you had a reason to "opt in" to giving as opposed to "opting out." By attending or supporting this event with a donation - it costs only $25, you can be certain that by "opting in" all the proceeds will benefit HCPP. Plus, you'll have a great girls night out - complete with light hors de oeuvres, cupcakes, Girlfriendtini's, free parking, and bunch of fun surprises!
"I hope you'll take a peek at the invitation below," said Lesli. "And, if you find this speaks to the hearts of other girlfriends, please feel free to pass it on! I'm so grateful for your time, consideration and support."
NEIMAN MARCUS MAZZA GALLERIE, LESLI FOSTER AND MAUREEN BRYANTINVITE YOU TO A FUN AND FABULOUS EVENING JOIN US FOR A NIGHT OF MANICURES AND MINI MAKEOVERS FEATURING THE TRENDIEST NEW COLORSFOR A FRESH FALL FACEENJOY SIPS, BITES, AND BEATS
5300 WISCONSIN AVE, NWTUESDAY, SEPTEMBER 106PM TO 8PM
COSMETICS, LEVEL ONE100% OF PROCEEDS WILL SUPPORTTHE HOMELESS CHILDREN'S PLAYTIME PROJECTTO PURCHASE YOUR TICKET AND RESERVE YOUR SPACE: