Georgetown's Winsor Castle Hosts House Tour Patrons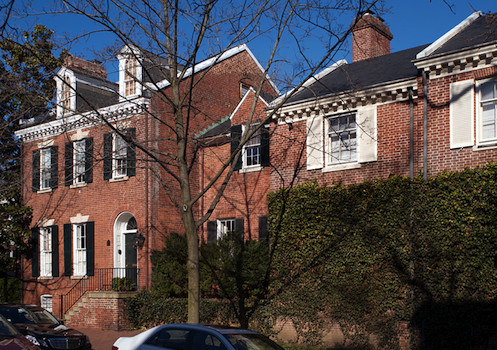 One of Georgetown's most extraordinary private houses will host the Patrons' Party of the 2010 Georgetown House Tour, an event which opens Georgetown's spring social season every April. This beautiful house - which we are all just dying to see - will be our site for the benefit on Thursday evening, April 22nd.
The generous owners, Deborah and Curtin Winsor, have agreed to host this charity benefit in their fabulous, historic house, which they have just redone to their own excellent taste. Curtin Winsor is Founder and Chairman of the Bank of Georgetown and Debbie is an interior designer, whose talents for combining distinctive historic details with the requirements of a modern family are exquisitely evident. Washington Life magazine recently described the Winsor house as "one of the oldest and grandest private residences in the capital and one with a storied past filled with intrigue and culture," which now reflects the Winsors' "unique style" and "refined sensibility."
The history of the Winsor house dates back to about 1810, with many of Georgetown's outstanding citizens as occupants over these past two hundred years.
The previous owner most known to us would be Ambassador David Bruce, and his iconically glamorous wife, Evangeline Bruce (pictured at left, center). The Bruces lived at this 34th Street house before and after
Image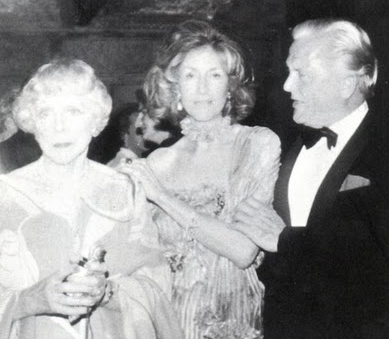 serving as envoy to France, Germany, Great Britain and NATO during his long and distinguished career as a diplomat - back in the days when serving our government was considered the highest form of service to one's country. Their entertaining made this house a highpoint on Washington's social scene and a ballroom was added in the 70's, which looked out onto one of Georgetown's finest walled gardens, designed by Rose Greeley in 1955. The property also includes a guest house, lap pool, stone terrace and sunken lawns.
After the death of the Bruces -- and I remember Evangeline's crowded funeral service held around the corner at St. John's Church -- the house was bought by a young couple, Clara Bingham and David Michaelis, who found the ballroom more useful as a playroom for their kiddies.
But let's go back to the beginning when Clement Smith (of famous Smith's Row) built this house around 1810, two hundred years ago. It was occupied for many years by William Ridgely, then by Dr. Edwin Linthicum,whose brother owned the famous Linthicum Mansion, now known as Dumbarton Oaks. Just prior to the Civil War, Col. McHenry Harlingsworth (Hollingsworth) lived here two years, as superintendent of Mount Vernon, and ran a boat between Washington and Mount Vernon.
During the Civil War, soldiers chose 34th Street as a barracks and camped there till ordered to the front. It is said that almost every evening the band played martial music in the rear garden. It must have been a picturesque sight.
Later extensions were built, and the property passed through several owners, including Joseph Waters, who lived there with his wife from 1867 until his death in 1910. They were parishioners of St. John's Church and a window in the church is dedicated to them.
So when you come to our wonderful Winsor party, think back on all this fascinating history and rejoice that we Georgetowners have been able to save these ancient buildings and even make them lovelier than ever, as the Winsors have done here.
The Patrons' Party and the House Tour also reflect one of the most wonderful aspects of our community – generosity to those in need – particularly during this harsh economic period. Both events benefit the many ministries supported by St. John's Church, including Bright Beginnings, Martha's Table, SOME (So Others Might Eat), Salvation Army Grate Patrol, Jubilee Jobs, Georgetown Ministry Center, and Bishop John Walker School.
Invitations will be sent for this not-to-be-missed party in late March by Nancy Margaret Adler of the House Tour Committee. Patrons' Party tickets are tax deductible and include admission to the 2010 House Tour, which will be held as always on the last Saturday in April, the 24th. Besides touring both grand and small treasures of our town, from a large Cox Row home and a quaint two-room carriage house, guests also may enjoy tea served at St. John's Episcopal Church, 3240 O Street, where tickets will be sold. Interior designer Martha Vicas is Chair of this year's tour. For additional information, contact (202) 338-1796.
Or visit the official Georgetown House Tour website.
See you there!
Frida Burling, House Tour Committee, with thanks to Sara Revis