Georgetown's Tall Guys in China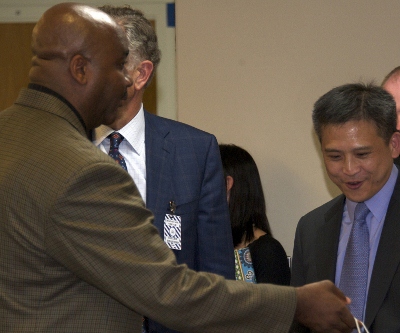 Georgetown University's men's basketball team is in China for ten days of pre-season warm-ups – and, who knows, maybe inspiring the next Yao Ming to do his college work with John Thompson III.
The team will visit cultural sites, participate in basketball clinics with Chinese students and play four exhibition match-ups against teams of the Chinese National Basketball Association. The players also will participate in the first-ever Nike Festival of Sport in Shanghai.
On Thursday of last week, the team joined Georgetown Board of Directors Chairman (and former NFL Commissioner) Paul Tagliabue as well as Head Coach Thompson at the U.S. Department of State for a briefing with Kin Moy, deputy assistant secretary for East Asian and Pacific Affairs.
The briefing helped prepare them for the trip to China. The team learned what to expect in Beijing and Shanghai and more about the diplomatic relationship between the United States and China.
They will be visiting both Chinese cities as part of their first cultural and athletic tour abroad under Thompson.
"There are as many people playing basketball in China as there are in the United States and that's an amazing statistic," Thompson said. The best known is Yao Ming, the all-star center who recently retired from the Houston Rockets of the NBA.
Georgetown was a natural for the Nike event—JT III's father and former Georgetown coach John R. Thompson Jr. is a Nike board member.
"From an institutional standpoint, we're getting a chance to represent Georgetown and increase our reputation in China. President Jack DeGioia has focused reaching out to other countries as a global institution, and this trip is part of that work." Tagliabue, a GU alum, has international sports experience from his years at the NFL, marketing the brand worldwide.
The team left Saturday and returns to Georgetown Aug. 24.