Georgetown's Spring Art Walk Apr. 17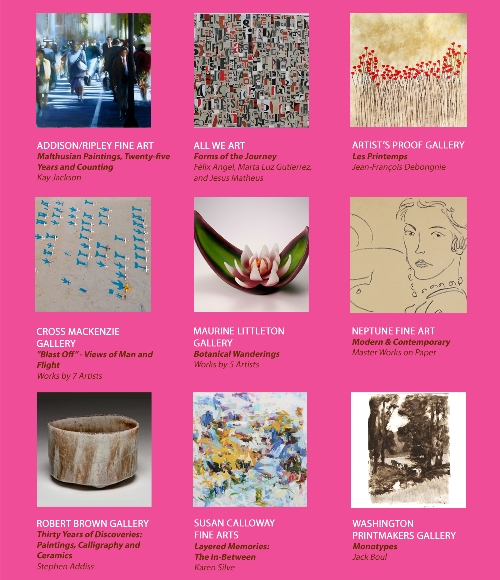 The Georgetown Galleries on Book Hill invite you to their SPRING ART WALK: Friday, April 17th, 2015 from 6:00 until 8:00 pm.
Nine galleries will host an evening stroll and launch their fine art exhibitions in the most beautiful part of Washington, DC.
Add to your collection and please join them for a night of art, fun, and refreshments.
THE PLACE FOR ART & CULTURE IN DC
FEATURED GALLERIES AND EXHIBITS:
ADDISON/RIPLEY FINE ART – Malthusian Paintings, Twenty-five Years and Counting
by Kay Jackson
ALL WE ART – Forms of the Journey, featuring: Félix Angel, Marta Luz Gutierrez, and
Jesus Matheus
ARTIST'S PROOF GALLERY – Les Printemps by Jean-François Debongnie
CROSS MACKENZIE GALLERY – Blast Off, Views of Man and Flight. A group
exhibition including: Biddle/Frankel Eve Biddle & Josh Frankel, Matthew Courtney,
David Favrod, Max MacKenzie, Philip Slagter and Trevor Young
MAURINE LITTLETON GALLERY – Botanical Wanderings featuring: David Lewis,
Peter Loewer, Judith O'Rouke, John Littleton and Kate Vogel
NEPTUNE FINE ART – Modern & Contemporary Master Works on Paper, featuring
Henri Matisse, Pablo Picasso, Chuck Close, Robert Longo and Joan Mitchell
ROBERT BROWN GALLERY – Thirty Years of Discoveries: Paintings, Calligraphy and
Ceramics by Stephen Addiss
SUSAN CALLOWAY FINE ARTS – Layered Memories: The In-Between by Karen Silve
WASHINGTON PRINTMAKERS GALLERY – Jack Boul: Monotypes
For more information, please visit Georgetown Galleries or contact chris@neptunefineart.com or 202.333.0353