Georgetown's cobblestone streets begin renewal project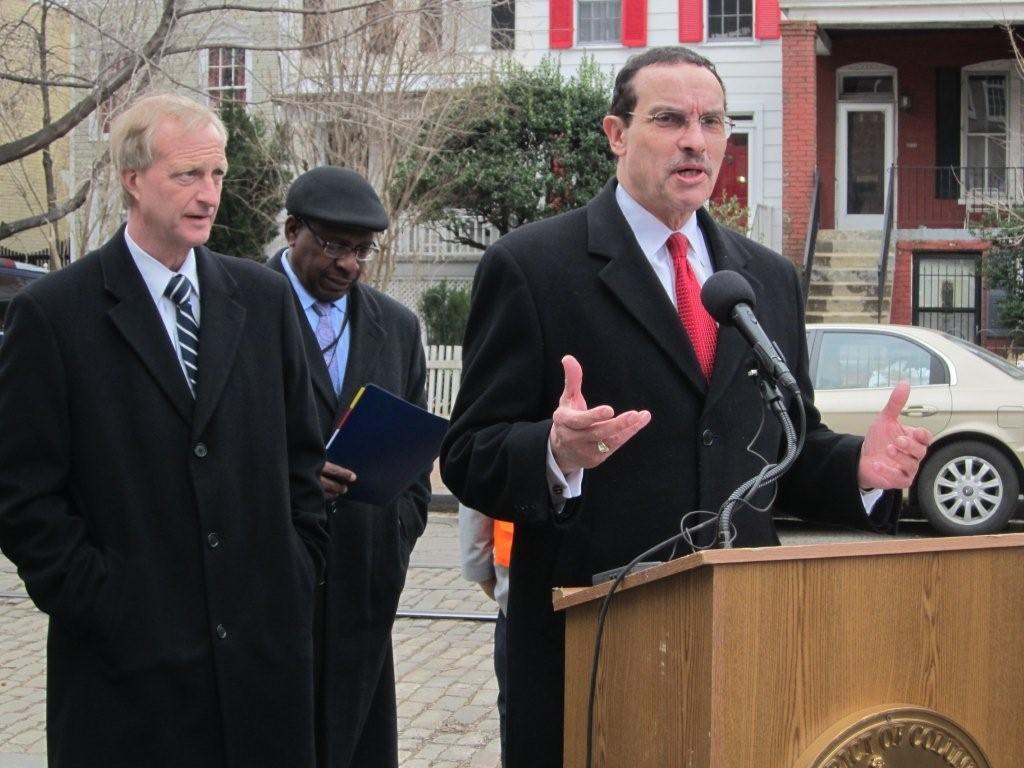 Standing near old rail tracks jutting upward out of cobblestones on a roadway rippling like a spring river, Mayor Vincent Gray, Councilmember Jack Evans and D.C. officials broke ground at long last today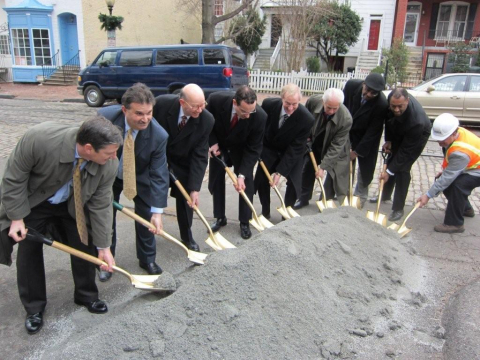 on the reconstruction of O and P Streets in Georgetown. The groundbreaking ceremony, on the sidewalk in front of Hyde-Addison Elementary, marked the beginning of a project that was first conceived in 1982, partially started eight years ago, and after years of planning and discussions, finally may be underway.
Some people navigate O & P Streets with their cars gliding on the tracks. Some straddle the tracks and deal with the potholes. During snow, well, we won't go there. Countless tires have been cut when navigating on and off the tracks, and cabbies many times won't drive on the street, so you're left dragging your bags a few blocks. So the time has come for the complete reconstruction of Georgetown's remaining cobblestone cross-streets.
Construction is scheduled to start Monday in the 3600 block of P street and proceed east towards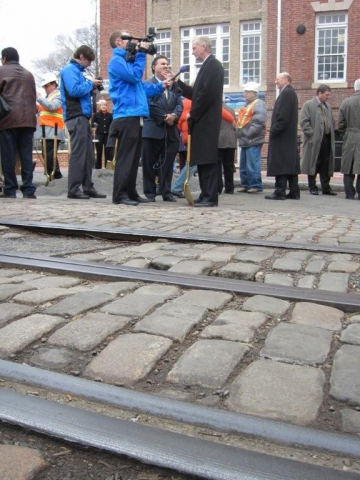 Wisconsin Avenue. The contractor plans to start with the utility phase which includes the installation of water main and electrical duct banks for street lights. DDOT will remove the streetcar wheel rails and slot rails and other historic elements including the granite street pavers, blue stone curbs and sidewalk brick and then reinstall them on O and P Streets between Wisconsin Avenue and 35th streets. The cobblestones and trolley tracks on O and P between 35th and 37th (some currently under asphalt) will also be removed and refurbished for possible use in the event that there are not sufficient materials in the reconstructed track/cobblestone areas. 33rd, 34th, 35th, 36th and 37th streets between O and P streets will be resurfaced, with the addition of new granite curbs.
These streets date back to the 1800s. City officials say wooden planks were uncovered on a cobblestone street project in North Carolina that dated from the early 1800s. Even though the engineers have excavated test plots, they're not sure exactly what they'll find. Really – how could anybody know? Water mains were added in the late 1890s, gas lines in the 1920s, so that means it's been almost a century since any significant excavation has taken place.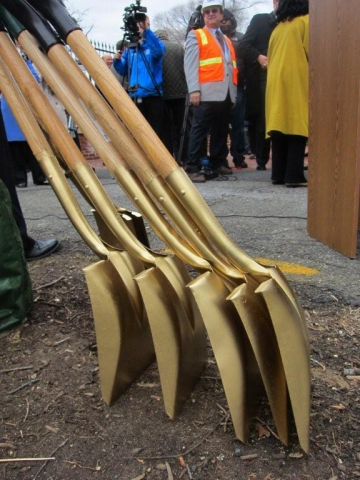 The tracks on O and P Streets were part of the Washington streetcar system, which operated until 1962. They are set on 350 pound cast-iron yokes beneath the center of the roadway, and other than a small section of conduit system streetcar track in London, are believed to be the only surviving examples of this type of track system. Archaeological monitoring will take place during all construction activities, officials say.
The project will not only include the restoration and repaving of the streets and sidewalks, but the installation of new water mains, storm lines, electrical conduits, street light poles, tree box fences, tree planting, wheelchair ramps, catch basins and driveways as well as the reinstallation of police call and fire alarm boxes.
The project is scheduled for completion in August of 2012, and traffic and parking will be affected on a rolling basis as the project proceeds. In order to maintain one lane of through traffic at all times, the project will focus on one block and side of the street at a time. Nearby residents and businesses will be provided advance notice regarding work in their immediate surroundings. Construction teams plan to monitor noise and vibration levels, and dust control measures will be implemented throughout the project.
Community meetings will be held on a continuing basis. A website, www.fixingOandPstreets.com, will publish updates. There are already many questions coming from the community. The Georgetown Dish will be reporting on a continuing basis on the project, providing information (what do those blue, green, yellow and red lines mean?) and will make every attempt to answer questions from our readers. We'll provide diagrams and photos, updates, and some historical perspective as well. Questions? Email us at contact@thegeorgetowndish.com.