Georgetown's C. Boyden Gray is Honoree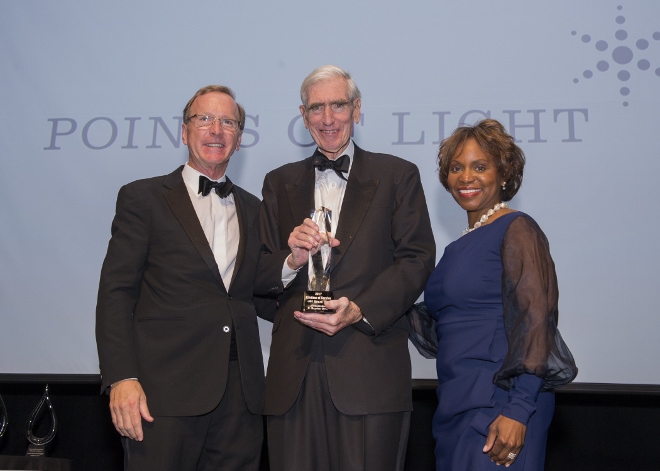 Georgetown resident Ambassador C. Boyden Gray was among those honored at the 2017 Points of Light Tribute Awards Dinner at the Embassy of France in Washington DC on Thursday (Oct. 19).
He received the Lifetime of Service award.
Other honorees included former California Governor Arnold Schwarzenegger, NFL player Coty Sensabaugh & Dominique Sensabaugh, and wildlife advocates Jack & Suzi Hanna.
Points of Light, a global non-profit inspired by former President George H. W. Bush, is the world's leading volunteer service organization. The Tribute Awards, entitled "Changing Lives Through Service," annually honor individuals who embody the vision of "1,000 points of light" that President Bush first invoked during his acceptance speech at the 1988 Republican National Convention.
Wolf Blitzer, CNN's lead anchor, emceed the event.
Some 300 corporate, non-profit, and community leaders gathered to honor individuals and organizations whose extraordinary contributions to volunteering and service have made their communities and the world better.
Mr. and Mrs. Neil M. Bush and His Excellency Gérard Araud, ambassador of France to the United States, hosted the event, along with the event Honorary Chairman C. Boyden Gray, and dinner co-chairs Wally and Sandy Ganzi, and Larry Bathgate and Michelle Bengué.
"Points of Light continues to lift up one of the legacies that is most important to my dad, and one that continues to have enormous ripples and impact in communities around the world," said Neil Bush, chairman of Points of Light's board of directors and a son of former President George H. W. Bush. "These extraordinary individuals bring leadership, innovation, and energy to bear on some of the toughest challenges we face as a nation. It is our privilege to recognize them."
Honorees are
· Schwarzenegger, former California governor and founding chair of R20: Regions of Climate Action and founder of the USC Schwarzenegger Institute for State and Global Policy;
· Coty and Dominique Sensabaugh, founders of the Sensabaugh Mission Moon (he is a cornerback for the Pittsburgh Steelers);
· Jack and Suzi Hanna, co-hosts of Jack Hanna's Into the Wild, and ambassadors for the Columbus Zoo and The Wilds.
· A Points of Light Lifetime Service Award was presented to Gray for his public service, volunteer leadership on the boards of numerous charitable, educational and professional organizations, and his longtime support of the Points of Light vision and mission as established by President Bush.
The honorees are representative of the more than 62 million Americans who volunteer their time, talent and resources every year in service to others. The value and impact of volunteering is particularly relevant on the heels of numerous recent natural disasters, including three major hurricanes and an earthquake.
The Points of Light disaster services team supports first responder organization such as FEMA and the American Red Cross, connects with voluntary organizations active in disaster chapters across the United States to assess the situation, and coordinates with affiliates and partner organizations in the affected areas to support long-term volunteer engagement in recovery efforts.