Georgetowners put their 'nesting instincts' to work refreshing local homes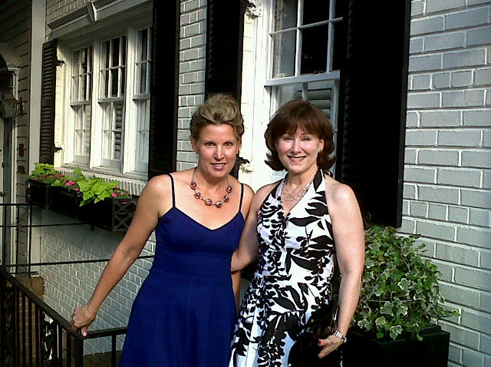 By Beth Cope . . . .
Current Staff Writer . . . . .
As kids, Georgetown residents and new business partners Karen Murphy and Robin Jones watched their mothers make house -- a lot.
"I grew up in a military family, and we moved all the time," said Jones. "My mother, she really had the touch."
"I do think that we were influenced by our mothers in that they had to make a temporary space a home," said Murphy, whose father was also in the Navy. "They had to use what they had. They didn't want to buy things specific to that space every time."
And that's just the concept at work in Jones and Murphy's new business, Refresh Your Nest. The company uses the things you have -- and a few purchased touches -- to upgrade your home.
"A lot of people don't need a decorator per se … and they kind of like the stuff that they have," said Jones. "But they want to bring some current style and trends into the house."
The new job marks a pretty big makeover for Jones and Murphy as well. The former recently moved to Georgetown from Frederick, Md., after selling her public relations/ad agency. And Murphy, who uprooted from Atlanta about seven years ago, has worked as a senior vice president for Smith Barney and Bank of America.
But both say their design roots go deep. Perhaps in part because of their mothers' influences, both have the "nesting instinct," said Murphy.
Evenings at Murphy's childhood homes featured the scraping sounds of the only child's desire for dynamic décor: She rearranged her bedroom furniture constantly. She also created her own accessories, including a "Flower Power" sign made of shelf paper for the wall of her beige/orange/brown room. ("It was the late '60s," she explained.)
In Maryland, Jones was doing the same thing, moving her furniture constantly and making her own decorations. "I was like a little Martha Stewart," she said. "I had a sewing machine and I was making curtains." Her bedroom color? All purple.
Jones carried her redecorating interest throughout her young-adult years, when she redid the kitchen of every apartment she rented in black and white, even spray-painting one avocado-green refrigerator white. "And I'd take the icky cabinet doors off and I'd stack the dishes," she said. "I increased the value of all the places I lived in."
As a young professional, she translated that design interest into fashion, working in New York for Ralph Lauren and Christian Dior. Family changes brought her back to Maryland, and then to Georgetown, where she met Murphy thanks to a little family matchmaking.
"Her daughter, who was working at Clyde's one summer, waited on me," said Murphy. Eyeing Murphy's group of friends, Jones' daughter suggested an addition to their posse -- her new-to-Georgetown mom -- and Murphy took her up on it. The two women clicked.
Now they're excited to be working together. Their first client is a local cooking school that "has a little bit of a mom and pop feel," said Jones. "We need to help them elevate the image of the studio a little bit so it fits the caliber of the clients they're starting to attract."
And they're looking forward to their first residential clients. Projects will begin with a sit-down to assess the customers' wants and tastes. "What do they want the feel of the room to be?" said Jones. "Can we shop the whole house [for furniture and accessories]? Are we doing the whole floor?"
She and Murphy will return with recommendations based on the budget -- ideas like paint colors, new fabrics and new layouts -- but they won't force anything on anybody. "We're not there to tell them what to do; we're there to make our recommendations and carry out what they have asked us to do," said Jones. "We're collaborating with them."
The whole process, including bringing in painters and moving furniture, could take just a day or two. And charges will be levied per room.
The pair also offers staging services, preparing homes for sale by reducing clutter, for instance. Though they note that clutter reduction can also be wonderful for someone who is staying put, too.
"If your kids always leave their shoes at the door, there's often a nook where you can put a basket where they can put them," said Murphy, noting that entryways are a good place to vastly improve a room. "I sort of start there, because you find that that's where things start falling apart."
More information on Refresh Your Nest is at refreshyournest.net.
This article appears in the Feb. 2 issue of The Georgetown Current newspaper.