Georgetowners nosh and josh at CAG tasting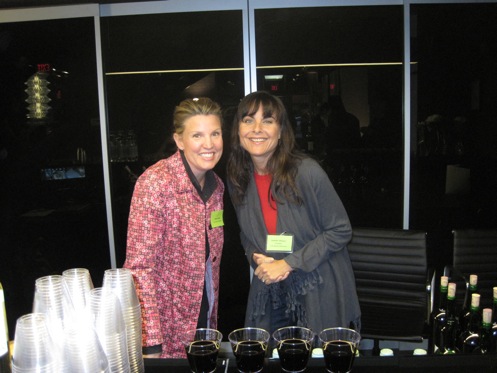 Georgetown's most popular chefs mingled with members of the Citizens Association of Georgetown (CAG) Monday at Boffi's elegant kitchen showroom in Cady's Alley. Chefs from Paolo's, Clyde's, Mie N Yu, Farmers & Fishers, and Maté wowed the crowd with melt-in-your mouth sliders and pink (yes, pink) sushi. (It was good!)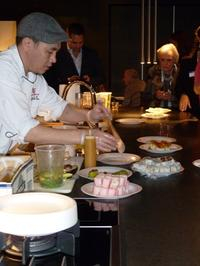 Boffi showroom manager Julia Walter, a native of Europe, bestowed warmth throughout the elegant showroom as community leaders and CAG members enjoyed cooking demonstrations, food plating and presentation, sushi-making and cocktail-mixing. The stunning glass walled, exposed brick, and concrete floor space opened last August, shortly before Walter arrived. "We had to get the store right, and now we want to reach out to the community. We're open for anything," said Walter.
Al Nappo, Executive Chef of Farmers & Fishers, had guests swooning with his Baby Cheeseburgers. Farmers & Fishers promotes products that come from American family farmers whenever possible.
Chef Kahn, Executive Chef of Maté, presented multicolored sushi. How did they make the seaweed pink and lemon-yellow? We don't care! It tasted great.
Tom Crenshaw of Paolo's whipped up his "no fuss Gnocchi" with 1, 2, 3 vodka sauce. Yum. Mike Cherner, beverage specialist at Mie N Yu, mixed a "Cherry Blossom" cocktail. And Sal Ferro, Executive Chef, Clyde's showed off his luscious spring crab salad... proud and irresistible offering from the original American saloon.