Georgetown U's New Women's Basketball Coach Is Keith Brown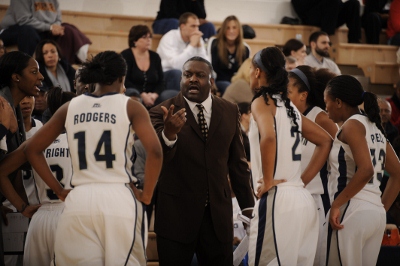 Keith Brown is the new head coach of the women's basketball program at Georgetown University.
Brown becomes just the 7th women's basketball head coach in the history of the program. He is no stranger to the program serving as the top assistant and head of recruiting for the past five seasons.
He succeeds much-heralded head basketball coach Terri Williams-Flournoy who left to head the Auburn's women's basketball program.
"I am excited to be promoting Keith to head women's basketball coach," said Georgetown University Director of Athletics Lee Reed. "Keith is a proven recruiter and motivator, he has the ability to push these student-athletes both on the court and in the classroom and I look forward to what he will bring to the program."
Brown has been a part of three-consecutive NCAA Tournament appearances as he helped the Hoyas move onto the national stage. This past season, Georgetown went 23-9 overall with a mark of 11-5 to tie for fourth place in the extremely competitive BIG EAST Conference.
The Hoyas defeated three ranked teams this season and were ranked in both the AP and ESPN/USA Today Polls for the entire year, at one point reaching No. 10 on the AP Poll and No. 11 on the ESPN/USA Today Poll. The Blue & Gray finished the season with an RPI of 26, as well as being ranked 18th and 17th on the AP and the ESPN/USA Today Polls, respectively.
In 2010-11, Brown and the Georgetown squad returned to the Sweet 16 posting an overall record of 24-11 and a mark of 9-7 in the BIG EAST. The Hoyas defeated five ranked teams and were ranked in both the AP and ESPN/USA Today Polls for the entire year, at one point reaching No. 11 on the AP Poll and No. 12 on the ESPN/USA Today Poll.
Brown has mentored players such as junior Sugar Rodgers, who is GU's first three-time First Team All-BIG EAST honoree and three-time All-American. In five seasons he has had players earn three All-America awards, seven All-BIG EAST Honors, one BIG EAST Rookie of the Year and a State Farm Three-Point Shootout invitation.As an assistant, Brown was the head of recruiting for the Hoyas and he handled the team's scheduling. He played an active role in recruiting the classes of 2012 (6th), 2013 (12th) and 2014 (25th) all of which received national recognition from a number of recruiting outlets. Rodgers was his first McDonald's All-American recruit.
Originally from the Bronx, Brown spent his childhood in Branchville, S.C. Brown has been with his wife SanJuan for more than 20 years and the couple has eight children and two grandchildren.