Georgetown University's New Mascot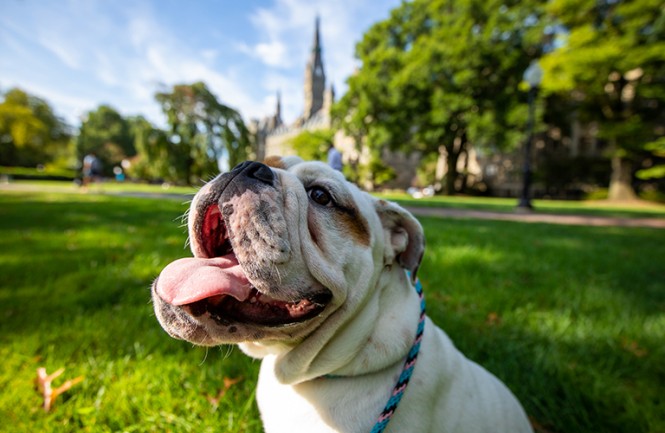 Georgetown University announced a new mascot-in-training to become the next official Jack the Bulldog.
The six-month-old bulldog was born in January in Canada. He later moved to Valley Center, California, where he began his training with breeders and Georgetown parents Janice and Marcus Hochstetler.
*/
The dog's new caretaker and the Jack Crew, comprising several students who help with the mascot's daily walks, will introduce the puppy to campus on his daily walks.
VITAL STATISTICS
Name: Jack the Bulldog
Official Papered Name: IROC Casagrande John F. Carroll
Born: January 24, 2019
Arrival at Georgetown: July 24, 2019
Birthplace: Alberta, Canada
Weight: 51 lbs
Color: White with red brindle markings
Lineage: Son of the Champion IROC African Rhythm (known as Mufassa) and Champion Casa Grande's Ready Eddy
Favorite pastimes: Playing with his dog friends, Blue and Gunner, chasing his favorite green watering can and falling leaves, playing with his toy armadillo and elephant
Favorite food: Chopped salad, but never with olives
*/
Favorite hangouts: The lawn by White-Gravenor; the Alumni House
Read more here.