Georgetown University Unveils Draft Campus Plan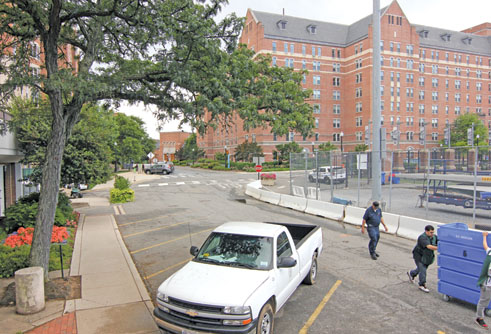 By Brady HoltCurrent Staff Writer
Georgetown University will continue its current undergraduate enrollment levels through 2036; continue moving undergraduates out of neighborhood rental properties; and gradually increase its numbers of graduate students, faculty and staff, officials said Monday.
The school that day unveiled its draft campus plan, which was developed in partnership with Georgetown, Burleith and Foxhall community leaders, as well as university students. Universities in residential areas must periodically produce these plans for review by the Zoning Commission, which ensures that the schools aren't causing undue impacts on their communities.
While campus plans are often contentious — as Georgetown's have been in the past — the school has most recently been working closely with neighbors to minimize opposition. The current campus plan, adopted in 2012 and expiring next year, won unanimous support after the university agreed to house more undergraduates on campus and invest more in protecting the neighborhood from noise, trash and traffic impacts.
"Being able to hear each other and not talk past each other has enabled us to get to where we are today," Chris Murphy, the university's vice president for government relations and community engagement, told residents at Monday's presentation. A few dozen residents attended the meeting, and only a handful had any questions or concerns.
"Three years ago, this room would have been overflowing with people complaining about the conditions on the streets," Georgetown advisory neighborhood commissioner Ron Lewis told The Current. "The fact that this is a small meeting speaks to the improvements that have been made."
The proposed 2017-2036 campus plan keeps the university on the same trajectory as in recent years, continuing toward a goal of keeping undergraduate activity on campus. In the last five years, the university created 385 new on-campus beds. An additional 244 undergrads will be accommodated outside of the neighborhoods by 2036 — on campus or elsewhere — leaving just 10 percent living in private residences near the campus. The school also will renovate existing dorms and increase on-campus amenities to attract students who would otherwise prefer to live elsewhere.
"What the students have been very articulate about is that they're not opposed to living on campus, but they want it to be in an attractive, marketable place," said Murphy. "There will always be a number of students who don't want to live on campus … but our goal and our challenge is to make them want to live on campus."
The university already added an on-campus pub as part of the current campus plan, providing a late-night gathering spot that students wouldn't need to pass through the neighborhood to patronize. The campus plan also calls for a "student life corridor" to replace a maintenance building and cluttered parking area along the stretch of Tondorf Road that passes between Harbin Hall and Cooper Field, creating a more inviting way for students to travel between different activity areas.
The university intends to ask the Zoning Commission for flexibility on many of its plans for changes to buildings. It does plan to tear down the aging Yates Field House but is open to various uses for a replacement facility. The Reiss Science Building could be renovated for academic use, or razed and replaced with anything from classrooms to dorms.
Additionally, the university isn't specifically committing to adding further dorm capacity on campus. Officials said other strategies for bringing students out of the neighborhood could include sending students abroad or to satellite facilities; the only fixed requirement would be that 90 percent of undergraduates would live on campus or outside of the 20007 ZIP code.
Undergraduate enrollment would remain capped at 6,675 students throughout the new 20-year plan, and medical students would still be limited to 830. The total student cap would remain at 14,106 for the Georgetown campus, allowing an increase of about 2,000 graduate students.
Officials said Monday that this growth would come gradually as new programs are introduced, and that they expect many of these programs to attract students who wouldn't live near the campus or even come to it frequently. To serve the new students, the university also will request a faculty and staff increase from 4,150 employees to up to 4,565, an increase they also expect to be gradual.
In response to community questions about graduate student housing, the university's Robin Morey said that's not part of the campus plan but that the school is nonetheless looking into the situation. "We do know that it would be in our interest to find a community for our graduate students," he said. "Where that community would be remains to be seen."
Morey said areas downtown or otherwise near Metro stations would likely be the best option, and he said the university is also looking to expand a small residential program it already coordinates in Rosslyn, Va.
The campus plan also will include the planned expansion of MedStar Georgetown University Hospital, which includes construction of a new surgical wing on the site of a surface parking lot. The project also includes new green space and an underground parking garage, and hospital president Michael Sachtleben said Monday MedStar hopes to break ground in mid- to late 2017 and open the facility for patients in 2020. The expansion also will provide capacity for existing hospital facilities to close temporarily for renovation, he said. Over the 20-year life of the campus plan, hospital staffing levels are expected to grow from 4,414 to 5,119 employees, according to university documents.
The draft campus plan and a summary are available at campusplan.georgetown.edu, where residents can also submit questions or comments until July 6.
The two advisory neighborhood commissions adjoining the university — ANC 2E and ANC 3D — will vote on the draft plan in August; the school expects to submit it to the Zoning Commission in September, and hopes the commission will approve it in late 2016 or early 2017.
This article appears in the June 8 issue of The Georgetown Current newspaper.