Georgetown University Honors Martin Luther King, Jr.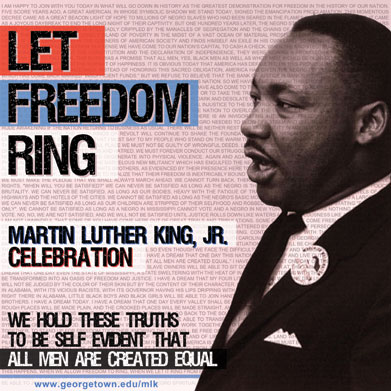 Georgetown University is celebrating the life and legacy of Rev. Martin Luther King Jr. Jan. 19-25 with events that include presentation of its 2014 John Thompson Jr. Legacy of a Dream Award to Lecester Johnson during the Let Freedom Ring musical celebration at the Kennedy Center.
The university will honor Johnson at the Kennedy Center event Jan. 20 for her leadership and advocacy for adult education and workforce development. Grammy Award winner Dionne Warwick is scheduled to perform at the event, which will be webcast.
The week also includes academic, service and spiritual events as well as curriculum tied to the 50th anniversary of the March on Washington for Jobs and Freedom. Read more here.