Georgetown University capital campaign lunch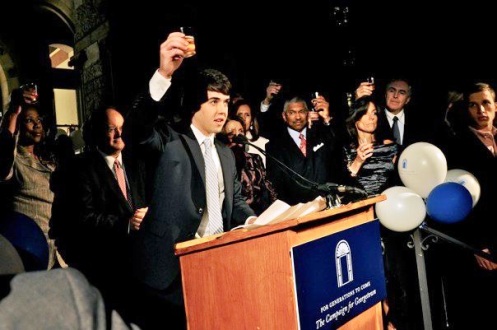 "…We stand here today, in the heart of our campus, as witnesses to the enduring legacy of the swift Potomac's lovely daughter, Georgetown, our alma mater.
We know that all too soon, our generation's time on the hilltop will come to a close, and it will be time for a new generation to arrive.
But we look forward to the future and to the challenges ahead. And we raise our glasses, to the spirit of Georgetown, today and forever.
Here's to Georgetown – HOYA SAXA!"
Speaking these words from the steps of Healy Hall marked the proudest moment during my time at Georgetown University. Last Friday, Georgetown launched the public phase of it's $1.5 billion dollar capital campaign, "For Generations to Come: The Campaign for Georgetown." The Office of Advancement indicated that close to 50% of the campaign's goals were raised in the quiet phase, started in 2006. The campaign is ambitious, especially during these times of economic difficulty. But that only makes the importance of this campaign all the more critical, at a time when this country, and our world, needs Georgetown to continue and to expand her work in earnest.
I am just one of hundreds of students each year who fall in love with Georgetown University. To have had the opportunity my senior year to play a part in this monumental moment in the history of Georgetown was a distinct honor.
The weekend festivities were indelible. This past Friday, a lecture series titled, "Think About It: An Afternoon of Ideas," featured distinguished HOYAS like former Secretary of State Madeline Albright, business giant Ted Leonsis, and Head Coach of the Men's basketball team, John Thompson III. The official kick-off was marked by a light show, showcasing Healy Hall, the White Gravenor building, and Copley Hall in dramatic fashion. On Saturday, hundreds of notable alumni, prominent faculty, and student leaders gathered at the National Portrait Gallery for the capital campaign gala.
All fanfare aside, it is important to stress what this capital campaign represents for Georgetown. Georgetown had a slow start to fundraising, especially compared to its peer institutions. For generations Georgetown has been able to thrive, and to continue its pursuit of excellence for the betterment of our world, with comparatively little means to do so. The completion of this campaign will bring Georgetown closer to a fundraising capacity more in line with its already established capacity in other areas like academics.
All this means a better Georgetown University, and a better Georgetown University means a better neighborhood for the greater Georgetown area. The world's brightest students and scholars will continue to come and contribute to the vibrancy of northwest D.C. Some of the projects, like the New South Student Center, will also encourage more students to stay on campus when looking for weekend fun.
The campaign is centered on four pillars. The first is "student access and excellence." A total of $500 million dollars will be raised and allocated to student financial aid, so that Georgetown can continue to attract and retain the best and brightest young leaders, regardless of their background. The second, "faculty access and excellence," seeks to raise and allocate $500 million, which will be directed to both new and existing faculty positions, research funding, and program funding. This will enhance Georgetown's already formidable reputation for academic excellence. The third pillar calls for $200 million in new capital projects, which include the Intercollegiate Athletic Center and the New South Student Center. And the fourth pillar seeks $300 million for "transformational opportunities" – opportunities that aim to better the institutional trajectory of Georgetown University.
I hope that Georgetown's neighbors will join me in congratulating the University on this special occasion. For generations, the University has been a prominent source of public good in this city, in this country, and in this world – and it will continue to be, for generations to come.