Georgetown U. transportation plan panned by District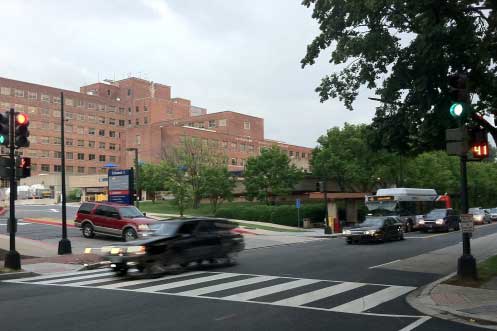 The District Department of Transportation (DDOT) is repeating its official thumbs-down of the Georgetown University campus plan until further details can be learned. In a report delivered to to the D.C. Zoning Commission on Tuesday, DDOT says it "does not support" GU's ten-year campus plan because the University "has not adequately addressed DDOT's questions, concerns or requests for additional information and data…to determine whether there will be adverse transportation impacts on the adjacent neighborhood."
As it did back in May, DDOT mentions a number of specific questions, problem areas and the need for commitments by the University, including:
A forecast of lower traffic in 2030 at Reservoir Road and 38th Street than there is now at that intersection,
The need to further investigate the many impacts of allowing a left-turn on to eastbound Canal Road from the campus in the morning rush hour, primarily for the GUTS shuttle system,
A pledge by GU to "no net new vehicle trip goals" for Reservoir Road "even with the proposed development within the University's boundaries (e.g. Georgetown University Hospital)"
A performance-monitoring study every two years for the approved plan to measure bicycle ridership, pedestrian trips, GUTS usage, how demand management is working and recommendations on how GU can improve its "sustainable transportation performance."
Bob Avery, head of the Foxhall Community Citizens Association, had a mix of reactions to the DDOT report. "I was disappointed because Georgetown has clearly not taken seriously their obligation to provide hard evidence on how they plan to accommodate the increased" traffic from their plan. On the other hand, Avery said he is "pleased that DDOT has done its job and recognized" the problems in the GU submission. "It's a good report."