Georgetown synagogue feuds during Netanyahu visit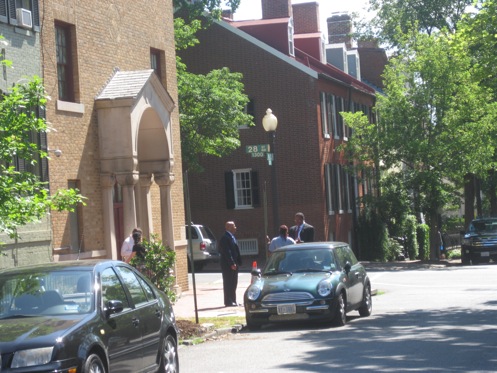 Heavy U.S. Secret Service and D.C. Metropolitan Police presence swarmed around Georgetown's Kesher Israel Synagogue Saturday morning as visiting Israeli Prime Minister Benyamin "Bibi" Netanyahu was said to be worshiping.
Synagogue member and regular worshiper Sen. Joseph Lieberman blasted President Obama's Friday speech on the Middle East which some interpreted as a rebuke of Israel, calling portions of it "profoundly ill-advised."
But another member of the historic Orthodox synagogue lashed out not at Obama -- but at Bibi. Leon Wieseltier of The New Republic wrote that Netanyahu doesn't want peace with the Palestinians. "I say Netanyahu [is responsible for the lack of progress toward a peace deal] because I do not believe that he wants peace with the Palestinians more than he wants his political base," he wrote.
As for Obama's suggestion that peace negotiations include the possibility of Israel's returning to pre-1967 borders, Matt Drudge put it this way: "Bibi to Bobo: Not gonna happen."