Georgetown students dive into debt debate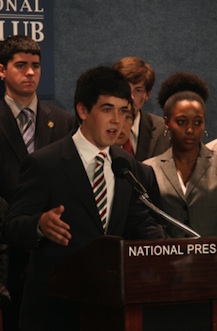 The Georgetown University Student Association led by President Mike Meaney has sent a letter to President Obama imploring him and other leaders to reach a compromise on the debt ceiling debate and the country's budget crisis, reported Vox Populi.
Over 100 college and university student body presidents representing over 2 million students signed the letter. Similar letters will be hand delivered to members of Congress.
Meaney, who spearheaded the initiative along with other members of GUSA, explained that the idea to appeal to the country's leadership was born out of a conversation during a bus ride about a week ago.
"We asked ourselves: How come our leaders can't seem to work together for the good of the country? Why do they seem to care more about the next election than the next generation?" he said. "Young people are often used as a political football, but we can't afford to let others speak for us any longer."