Georgetown Robbery Rise Sparks Concern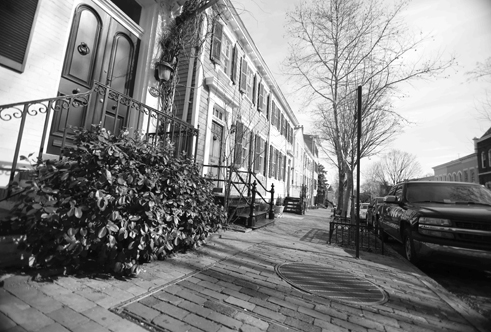 By Brady HoltCurrent Staff Writer
The Metropolitan Police Department has stepped up activities in Georgetown in response to an increase in robberies this year, Lt. John Hedgecock said in an interview.
The neighborhood has seen six robberies so far this year compared to two during the same time in 2013, according to police data. Suspects had guns in half of the recent incidents, and there was also an assault involving a gun at 10:30 a.m. Friday in the 1400 block of 29th Street.
"There is definitely an uptick in the number of robberies involving a gun, and that was something of concern. … We have deployed the additional resources to address this," Hedgecock said.
Hedgecock said he couldn't discuss the specific measures police were putting into place, but added that "some resources you'll see, some you won't."
Residents have expressed the most concern about street robberies, which account for four of the six incidents, Hedgecock said. The others targeted Domino's Pizza on Prospect Street (where the assailant had a gun) and TD Bank on Wisconsin Avenue (where the suspect did not).
Hedgecock described this year's street robberies:■ 1200 block of 27th Street: A lone female pedestrian was attacked by two unarmed female suspects at 6:31 p.m. Jan. 16.■ 3400 block of N Street: A pedestrian was held up by three suspects, one of whom had a gun, at 2:05 a.m. Jan. 21.■ 1600 block of 28th Street: A lone female pedestrian was robbed by a gunman at 2 a.m. Feb. 4.■ 1500 block of 32nd Street: A female pedestrian was robbed by a suspect who jumped out of a car and took her purse at 9:59 a.m. Feb. 16.
(There was also a seventh reported robbery, involving a gun, in the 3400 block of Reservoir Road, but Hedgecock said investigators concluded it was "unfounded." It continues to appear in official crime stats, however.)
Hedgecock said no one has been charged in any of the Georgetown robberies this year, but he declined to say whether investigators have made progress or linked any of the incidents.
Ed Solomon, chair of the Georgetown advisory neighborhood commission's public safety committee, said in an interview that the police department has traditionally worked well with the community. He added that the neighborhood has a robust array of safety programs from the Georgetown Business Improvement District, Georgetown University and community volunteers, which inspires confidence in area safety.
"One crime is too many, so we are going to be addressing this in the coming weeks and hopefully we'll see some of those numbers that we're experiencing now come down," said Solomon.
To help combat crime, Hedgecock encouraged residents to call 911 to report any suspicious activity, and urged pedestrians to maintain situational awareness. "Everybody's putting earbuds in their ears and not paying attention to their surroundings," he said. "The robbers are definitely going to target somebody who's distracted."
The lieutenant added that pedestrians need to look out for more than just robberies if they're using their cellphone or listening to music.
"We've had some pretty serious near-misses with people walking across the street with those things and not noticing whether the light is green or red," he said.
Pamla Moore, president of the Citizens Association of Georgetown, said in an interview that she's confident in the police department, but called the incidents involving guns "very scary for a neighborhood." She added that she's always been careful to stick to well-traveled streets at night, but said she now pays more attention to her fellow pedestrians.
Asked whether the crimes make her think differently of Georgetown, Moore responded: "No, it doesn't — but I don't like it."
This article appears in the March 19 issue of The Georgetown Current newspaper.