Georgetown plays Taiwan team ... in Shanghai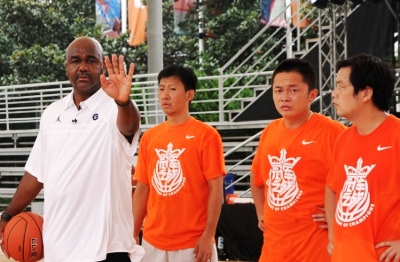 Could it be that ping-pong diplomacy has advanced to the level of playing hoops?
The Georgetown Hoyas men's basketball team scrimmaged against the Chinese Taipei National Team Tuesday – in Shanghai, China! It's the final competition of Georgetown's adventurous trip to China. A Taiwan team in China for a scrimmage with the Hoyas sends up a stream of positive vibes, at least on the hardwood court.
That scrimmage is the final competition of the Hoyas' adventurous trip to China.
Georgetown won against the Chinese Taipei National Team 83 to 64.
Earlier, after working with Chinese youth and coaches at special clinics at Nike's Festival of Sport facility, the team enjoyed a leisurely day in Shanghai on Monday. After shopping, they met up afterwards at the United States Consulate – a place the tour guide said was commonly referred to by most people as "Starbucks."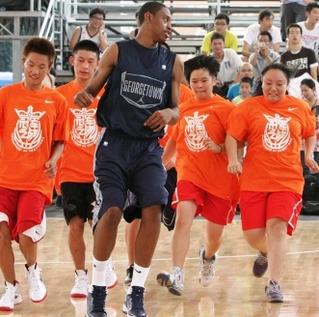 Street vendors hawked a variety of items, mostly watches. Hoyas strength and conditioning coach Mike Hill, Head Athletic Trainer Shawn Hendi and Sports Information Director Mex Carey each came away with new watches-- let's hope the instruments keep ticking longer than those knock-offs sold by Manhattan's street traders.
Following the visit to Old Shanghai, the Hoyas toured the Shanghai World Financial Center, the super-tall skyscraper in Pudong that is the second-tallest building in the world. The view of the city from the observation deck was described as amazing by team.