Georgetown Pizza Makers Star in Vegas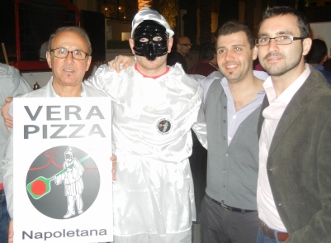 Top brass of the Associazione Verace Pizza Napoletena presented Joe Farruggio, owner of il Canale in Georgetown, with its official Neapolitan pizza certificate at the International Pizza Expo in Las Vegas.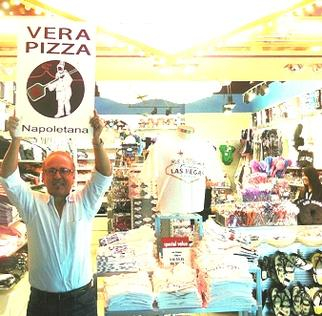 The award was presented on March 14 by VPN General Director Massimo Di Porzio from Naples and President of VPN's American Division Peppe Miele from Los Angeles.
They noted that il Canale is the first restaurant in 2012 to be honored as a member of the Naples-based association. VPN promotes the culture of true Neapolitan pizza worldwide.
On average, il Canale bakes and serves up to 1,800 pizzas a week.
"After 42 years in business, it is very important to me to receive this certification," said Farruggio who is a native of Sicily. "We are excited to be included in VPN and be recognized as a maker of truly authentic Neapolitan thin-crust pizza."
il Canale, he said, met all of the qualifications for VPN membership, including using Antimo Caputo flour ground at mills near Naples, as well as bufalo mozzarella and San Marzano tomato sauce imported from Italy.
"We are proud to embrace the philosophy of Neapolitan pizza," said Farruggio. "And our pizzas, of course, are baked in our wood-fired oven shipped from Naples."
Accompanying Farruggio to accept the award at Caesars Palace in Vegas were il Canale's executive chef Antonio Bigletto and manager Francesco Crovetti.
Farruggio said he and his executive staff plan to return for next year's convention and enter the competition for having the best pizza and pizza-makers internationally.
Il Canale is located at 1063 31st Street NW in Georgetown DC. Phone 202-337-4444. Ilcanale.com
With his family Farruggio also owns Joe's Place "Pizza & Pasta" in Vienna and Arlington, Va.