Georgetown ParasolShare is Back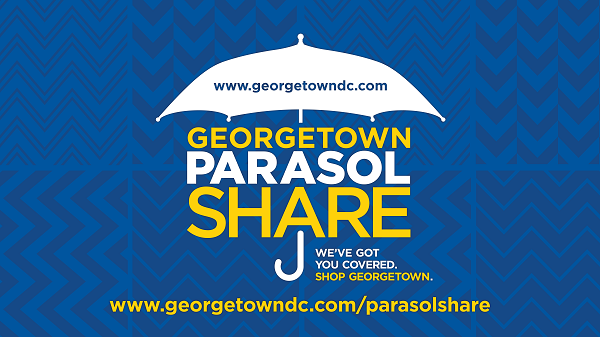 The Georgetown Business Improvement District (BID) welcomes back Georgetown ParasolShare this week for the third year, a courtesy program aimed at improving the visitor experience and inviting customers to shop Georgetown—rain or sun.
The program embraces the ever-growing sharing economy and encourages visitors to share a custom-branded nylon parasol as they shop, then return it to a participating location before they head home from Georgetown. This year's royal blue parasols are larger and sturdier than last year's, and more effective at shielding both the sun and rain.
Over 60 participating stores, restaurants, galleries and hotels across the commercial district—from M Street to Wisconsin Avenue, and along the side streets—are participating this summer.
"Georgetown is the largest outdoor shopping district in the region, and we want to ensure our shoppers and visitors are as comfortable as possible, regardless of the weather," said Nancy Miyahira, Georgetown BID Vice President and Director of Marketing.
Visitors and shoppers are encouraged to pick up, use, and then drop off a parasol at participating businesses through Labor Day.
A full list of participating ParasolShare locations is available here.
*/