Georgetown May Soon Get Electronic Bus Arrival Signs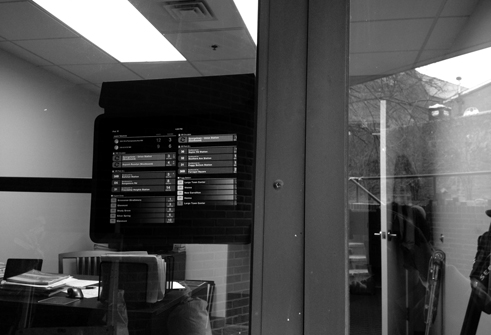 By Brady HoltCurrent Staff Writer
The Georgetown Business Improvement District hopes to install small electronic screens in store windows near bus stops that will display projected bus arrival times and other transit-related information.
There is no specific proposal yet, but the business group's newly hired transportation director, Jonathon Kass, has been working with a contractor and local businesses toward installing the screens — possibly iPads or computer monitors. The organization is prepared to spend several thousand dollars on the program, Kass said in an interview.
"We want to do everything we can to make it as accessible as possible for people trying to get to here, from here, around here," said Kass. "It's very valuable for the customer experience with a relatively cheap investment."
Studies have shown that knowing how soon a bus will arrive makes riders feel they've waited for 30 percent less time, according to Kass, and it also allows customers to maximize the time they spend shopping or dining instead of standing on the side of the street.
Furthermore, he said, bus riders will all be looking into the front window of a business with a transit display screen — a handy subtle advertisement for the store's wares.
As with anything in Georgetown that's visible from the street, the display screens would require rigorous design review to ensure compatibility with the federally protected historic district. And electronic signage typically faces vehement opposition.
For these display screens, though, the Georgetown advisory neighborhood commission voted last week to say that it won't rule out making an exception for small electronic boards displaying projected bus times. The commission's resolution will go to the D.C. Department of Transportation as part of the agency's review of citywide signage policy.
Without the resolution, the Transportation Department could have instituted a broad signage policy that poses problems for Georgetown's specific preservation needs, commission chair Ron Lewis said. Though commissioners expressed measured optimism that some sign schemes could meet the community's standards, they voted to request that the bus signs be prohibited pending review of specific designs and locations.
"Certainly we want to promote bus usage and generally overall improve the transportation services that we have in Georgetown," commissioner Tom Birch said. "And because this is electronic signage that has no relationship to a commercial establishment, I think it falls very much as an asterisk to the comments we submitted about signage overall in historic Georgetown."
While most commissioners supported the concept, Bill Starrels said he was "skeptical at best," especially considering that bus-arrival information can sometimes be sketchy. "I don't see how they could do it appearance-wise, I don't think it's accurate, I don't think it's necessary," he said.
Starrels ultimately joined his colleagues in supporting the resolution, while emphasizing that it should not be read as blanket support for electronic signs. "I just want to make sure if we did this, we'd have some control about where it would go," he said.
Because Georgetown is a rare federally protected historic district, the Old Georgetown Board — part of the U.S. Commission of Fine Arts — reviews any proposal in the neighborhood that's visible from public space, regardless of the District's policies.
Thomas Luebke, secretary to the Fine Arts Commission, said in an interview that he'd need to see an actual proposal to comment in detail, but that he's not opposed to the idea on principle. "It's something that could reasonably be accommodated in a way that is not harmful in the historic district," Luebke said.
Kass, of the business group, said he's confident the technology could be implemented "very tastefully." Small screens will be appropriate because Georgetown has narrow sidewalks, keeping pedestrians close to business's windows, he added.
Neighborhood commissioner Birch said residents of present-day Georgetown are accustomed to seeing modern technology blended in with the historic features of the neighborhood. Electronic bus signs, he said, will likely be no different. "After a while it's like a pay phone — it's there," he said.
This article appears in the April 10 issue of The Georgetown Current newspaper.