Georgetown to Light Up For the Holiday Season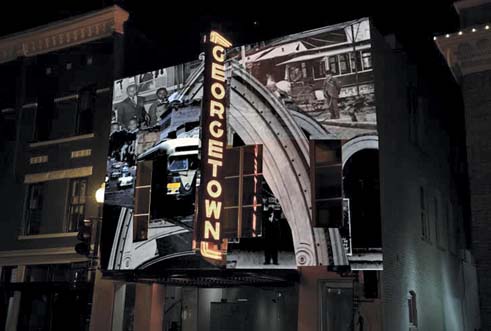 By Grace BirdCurrent Staff Writer
Georgetown is set to showcase nine illuminated art installations in the neighborhood this holiday season starting Dec. 8. The annual monthlong light festival, called Georgetown GLOW, is organized by the neighborhood's business improvement district.
"Public art is just something that's increasing in every neighborhood. People want to make art accessible," Georgetown BID vice president Nancy Miyahira told The Current. "While there are things in the world right now that feel somewhat divisive, we still have things that connect us."
Since its conception in 2014, the yearly GLOW light festival has grown from a few days to nearly a month. The event is partly funded by a $150,000 grant from the D.C. Commission on the Arts and Humanities, Miyahira said.
The BID is slated to host several holiday events around the neighborhood during Georgetown GLOW. A silent disco is planned for Dec. 9 from 7 to 10 p.m. at Washington Harbour, near an art installation dubbed "Horizontal Interference"; an "all-night" shopping event is set for Dec. 14, for which many retailers plan to stay open until 10 p.m.; and a "winter wonderland" day with music, food drinks and children's activities is slated for Dec. 16 from 11 a.m. to 4 p.m.
Art installations from all corners of the globe will be in place across a broad swath of Georgetown. At Washington Harbour, "Horizontal Interference" by Polish artists Joachim Slugocki and Katarzyna Malejka will depict a collection of colorful cords connecting trees and light poles.
At Georgetown Waterfront Park near the intersection of Wisconsin Avenue and K Street NW, Brooklyn-based artist Jen Lewin's "Aqueous" is set to feature 62 illuminated platforms. Lewin told The Current she hopes her work will encourage onlookers to participate and interact with one another.
"Each person is playing with the sculpture and you look up and start to connect," Lewin said. "I would never make a piece where people line up."
In the heart of Georgetown's commercial district, LSM Architects at 3333 M St. NW plans to project three works through the office atrium: "Strata" by London-based Quayola; "Still Life" by Casey Reas of Los Angeles; and "Rainbow Glass" by California-based Sara Ludy.
Above the former Georgetown Theater at 1351 Wisconsin Ave. NW, Robin Bell has designed a 15-minute video to depict elements of the historic neighborhood's past. Farther up Wisconsin, between P Street and Reservoir Road, a set of sculptures titled "The Neighbors" is slated to present four figures made of LED bent wires. The sculptures are intended to represent ambiguous community members, for residents to project their own neighbors onto.
An art installation depicting a family of refugees is slated for Georgetown's Grace Episcopal Church at 1041 Wisconsin Ave. NW. The artist, Alaa Minawi, said he was inspired by his work as a translator for refugees in Lebanon between 2011 and 2014.
The art installation, called "My Light Is Your Light," depicts illuminated outlines of six refugees, all but one crouched over to symbolize their immense suffering. The youngest family member, however, stands upright to represent the optimism that comes with youth.
"I started knowing … what forced them to leave their homes, what things they've been going through, and what are their dreams and aspirations in the new place they want to go to," Minawi told The Current. "Somehow, this triggered something in me. … I wanted to talk about this."
Georgetown GLOW will be presented nightly from 5 to 10 p.m. starting Dec. 8 and continuing through Jan. 7.
This article appears in the Nov. 29 issue of The Georgetown Current newspaper.