Georgetown Library Says Thank You for the Art May 17th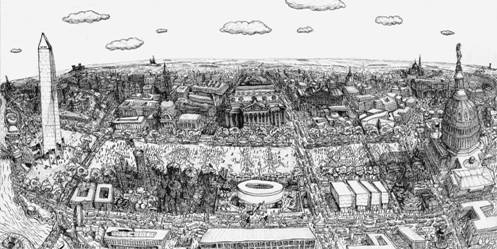 The Friends of the Georgetown Public Library are having a special thank you to three Georgetown residents for their generous contributions to the newly renovated historic Georgetown Library on May 17, 2012 starting at 5:00 pm.
Following the elegant restoration of our landmark Library after the devastating fire three years ago, many Georgetowners have stepped forward to help. ANC Chairman and continuing member, Tom Birch, has donated a Sidney Lawrence Cityscape. The Lawrence work depicts the elegance and grace of the original plan of L'Enfant. On the far left you can see the spires of Georgetown University. As it hangs over the first floor fireplace, it illuminates the grandeur of our Library.
The library thanks Arthur Day for his joyful rendition of Georgetown streets. Mr. Day has been praised for his many colorful landscapes. He has a studio at the Jackson Art Center, just two blocks down R Street from the Library. He has presented this work as a donation to the Library, which is now hanging over a fireplace on the first floor.
For further information please contact Jean Bower: jeancbower@gmail.com or Joan Shorey jbshorey@comcast.net
The Georgetown Public Library is located at 3260 R Street.