Georgetown Leaders Honor Weaver Family
A posthumous lifetime achievement award was given to the family of W.T. Weaver Wednesday at the Georgetown Business Association (GBA) Leadership Awards Luncheon.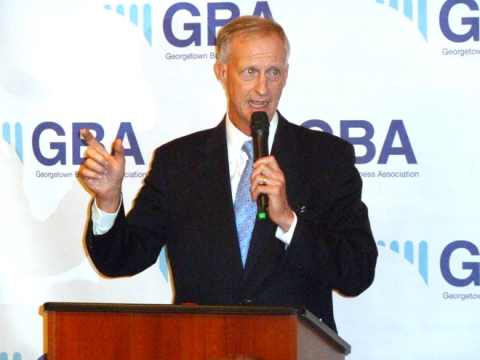 A fourth generation family-owned business, W.T Weaver & Sons has been operating since 1889, and is one of the country's oldest hardware firms. The company's clients have included The White House, The Blair House, The Vice-President's Residence, Ford's Theatre renovation, and innumerable luxury residential homes. Jim Weaver died in April.
Held at Sea Catch restaurant over a delightful lunch of pan-seared mahi mahi, mushroom risotto, sautéed bok choy, and strawberry shortcake, it was also an occasion for four Democratic D.C. Council Members and mayoral candidates to thank residents for their support and to affirm their commitment to the growth of the city.
GBA President Riyad Said told the guests how the Weaver family, long-standing GBA members, has been an integral part of the neighborhood. Son Jim, on behalf of the family was moved by the honor, saying " The fabric of cities is based on small business, whether it's serving on boards or starting parades, like my dad did."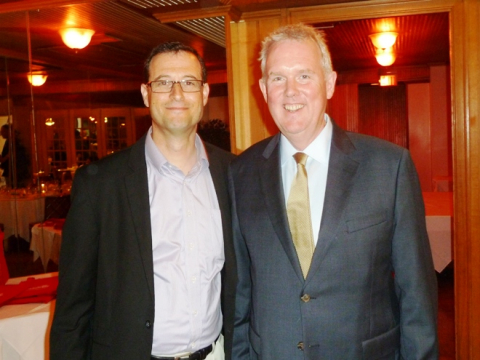 Jack Evans reported on the healthy outlook for Georgetown recalling a time 10-15 years ago when "the 'Big Dig' meant exploding manhole covers everywhere. We tore up M Street, built a new park, a rec center, renovated a library and finished construction on O & P Streets."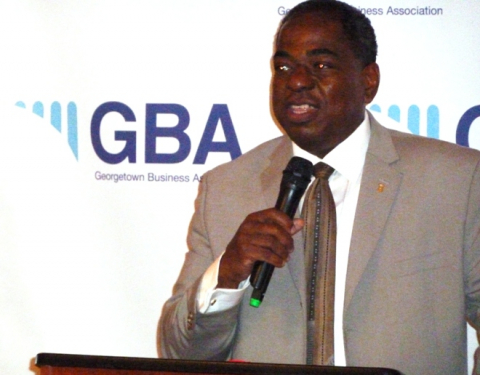 Tommy Wells reminded everyone that they were dining on the spot where IBM was born and reaffirmed his commitment to promoting every ward in the city.
Muriel Bowser, who chairs the Economic Development Committee thanked the Weaver family for their contributions as small business owners and invited guests to contact her any time.
Vincent Orange noted that earlier that morning (June 19th), he had attended the unveiling of a statue of Frederick Douglass in Emancipation Hall commemorating the end of slavery. A familiar presence in Georgetown, Orange reaffirmed his support for the equitable distribution of D.C. business dollars.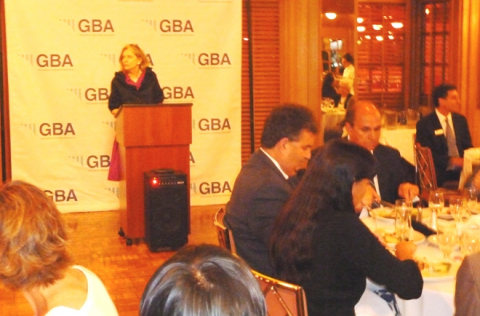 Kate Carr, Cardinal Bank President, one of the event's sponsors, announced the eagerly awaited Georgetown branch near the 'Social' Safeway.
GBA VP Janine Schoonover thanked everyone for coming and announced upcoming GBA events including the July 17th GBA Networking Reception at F. Scott's, and July 29th, the first Community Bridge Building Social at Serendipity3.