Georgetown launches first business social media channel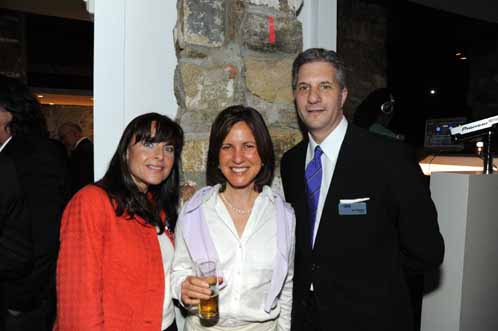 A record-setting 250+ Georgetown Business Association (GBA) members and friends sauntered among floating trays of elegant appetizers, cocktails and wine as GBA and The Georgetown Dish on Wednesday launched a new social media channel for Georgetown businesses called Out & About, the first such channel by a local business organization in Washington.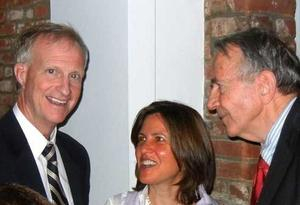 Out & About will promote GBA member businesses with daily news, announcements and event coverage -- including video -- as well as legislative affairs, new business openings, issues facing the business community and more.
"Our goal is to support our members by creating platform to help them increase sales and increase their visibility," said GBA President Joe Giannino at the launch, sponsored by EastBanc. "GBA and The Georgetown Dish are committed to supporting a vibrant business community, harmonious relations between residents and businesses, and enhancing the qualities of Georgetown that make it one of the world's most loved neighborhoods. We are committed to Georgetown's success."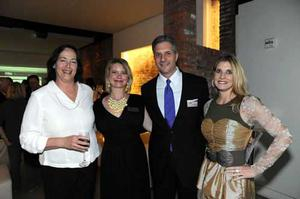 The new channel also begins a campaign of increased pro-business advocacy on behalf of GBA's members on local and national issues. "Georgetown Means Business -- that's our message," said Giannino, standing with Out & About Channel Director Beth Webster. "The new GBA Channel on The Georgetown Dish will allow us to make our voices heard on taxes, public safety, traffic and parking, and other issues that affect our members and our bottom line."
Councilmember Jack Evans offered his congratulations to the crowd. "I read The Georgetown Dish every morning. I have to make sure I know what they're saying about me," he said. At-large Council candidates Josh Lopez, Patrick Mara, and Vincent Orange also offered remarks in the countdown to the April 26 election.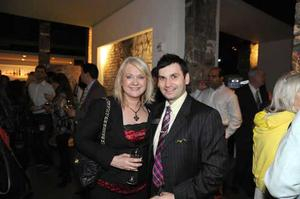 "The Georgetown Dish is now increasing the visibility of businesses and community organizations, keeping Georgetown ahead of the curve, where we like to be," said Beth Solomon, Publisher of The Georgetown Dish.
GBA members and board members including Rokas Beresniovas, Riyad Said, Jennifer Altemus, Sonya Bernhardt, Jim Wilcox, Susan Calloway, Janine Schoonover, Sue Hamilton (an organizer of the event), as well as House of Sweden's Cecilia Browning, Keith Lipert of Keith Lipert Gallery and Brian Armstrong of The George Town Club attended the event. Business leaders John Asadoorian, Chris Smith, The Current Newspapers' Davis Kennedy, Mary Kay Williams and George Steinbraker, Liz Sara, Marilyn Salenger, Bo Jonsson and Dean & Deluca's Eric Forsythe also mixed and mingled.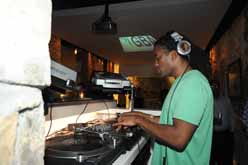 The Georgetown Business Association (GBA) is a non-profit membership organization committed to maintaining and improving the climate for conducting business in Georgetown. The GBA's goals are connecting Georgetown businesses with potential customers, other businesses and Georgetown/DC leadership and acting as advocate on behalf of the Georgetown businesses and professionals. The Georgetown Dish is the number-one news and social media site in Georgetown. Sign up for the Dish o' the Day newsletter here.